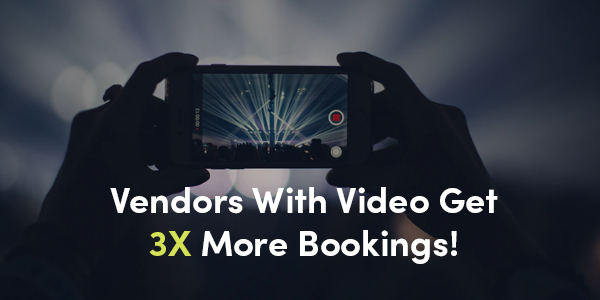 Do you have a video that promotes your talents and services? If you do, we highly recommend that you upload it to your profile on The Bash. Our research has shown that vendors with videos get 3x more bookings!
There are many ways to market yourself through the art of video. Whether it's raw footage of you performing live, a sizzle reel of your services or a testimonial video of your happy clients, video content is an essential part of advertising these days. And in an age of iPhones and affordable GoPros, there's no excuse to not have a video.
How to Upload Videos on The Bash
Follow these easy steps to upload a video to your profile:
Log in to your account

Go to your 'Profile' tab and click the 'edit' button next to 'Videos'

Click the link that says "click here to upload an MP3 or video" and upload your file in the next step. Make sure to add a title an then click the "upload file" button
PRO TIP! Our top bookers have an average of 8 videos and 6 audio files uploaded to their profile page on The Bash.
Important Things to Note When Uploading Audio & Video:
You can reorder your videos by choosing the number from the dropdown next to "Sequence"

You have different available storage limits depending on your membership type (Gold = 5GB, Pro = 1 GB, and Basic = 250 MB)

The maximum file size you can upload is 50 MB

For audio, we accept MP3 and AAC formats. For video, we accept WMV, MOV, AVI, MPG, MP4, and FLV

The "audio sampling rate" of the video must be 11025 hz, 22050 hz, or 44,100 hz. Otherwise the audio may be garbled on playback.

We automatically convert all WMV, MOV, AVI, MPG, and FLV files to MP4. The conversion process will change the size of your video to 1280 x 720 if it's not that size already.
If you have any questions or you need assistance converting YouTube or Vimeo videos to your profile, contact info@thebash.com any time!


Related articles:
5 Ways to Make a Low-Budget Video