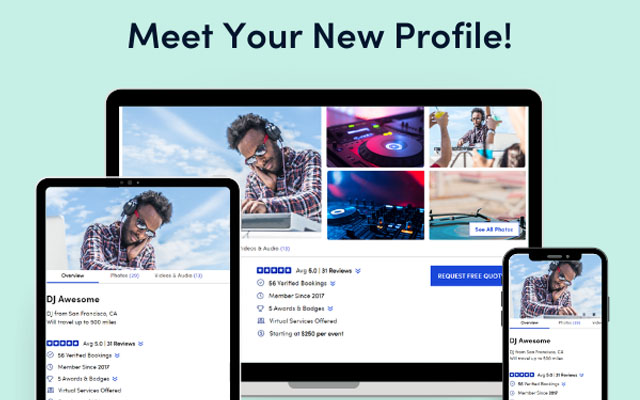 We've just unveiled new profiles on The Bash! 🎉Get ready to attract more party planners with your refreshed, modern-looking, and SEO-optimized profile.
Take a look at some of the highlights below to learn about the exciting updates!
New Profiles on The Bash Are Here!
We've been working hard to rebrand different sections of The Bash's site (like search results and the Member Control Panel!) to utilize our brand's new colors, design, and style. Now, profiles across The Bash have also been redesigned, updated to display the most important profile details, and optimized even more for SEO. These new designs have been tested and proven to attract more potential clients and drive more leads to our vendors.
Take a look at some of our favorite updates and improvements:
📸 New Photo and Video Gallery Functionality
You'll see that the way photos and videos are displayed on profiles has been enhanced. They are still shown prominently at the top of your profile, but you'll notice a couple differences when viewing your profile's media on desktop:
Your profile photo is now displayed largely on the left and additional photos (up to 4) are highlighted in small squares to the right of it. This allows party planners to see a preview of other photos in your gallery and entice them to view more!

TIP! The smaller photos to the right of your profile photo are smartly cropped. We recommend a 4:3 aspect ratio for those photos to display their best. If you need help cropping or uploading images, don't hesitate to contact us.

Once you click on "see more photos" you'll see all of your photos are displayed in a gallery-like view so planners can easily and quickly scroll down to view all of your photos in one place instead of having to click the back and forward arrows like previously. If you have Video & Audio files, you'll see a separate tab next to the "Photos" tab with the same new gallery-view functionality.
On mobile, you'll notice similar functionality with your profile photo showing largely at the top and two tabs below it that you can click to view all of your respective media.
☑️ Enhanced Profile Details Section
You'll see all of your important profile details (reviews, bookings, starting price, and more!) are right at the top of your profile. Planners can now easily and quickly navigate to your reviews, bookings, and award & badges sections by clicking the new blue downward arrows.

💲 Starting Price
If you previously displayed pricing on your profile, you will now see a "starting at" price "per hour" or "per event" displayed on your search results tile. The dollar amount that you had selected as your minimum pricing is what appears on your profile as your starting price. This gives your potential clients a realistic idea of what to expect to pay when booking you.
If you would like to add or update your starting price, you can do so at any time by going to your profile details. While showing your pricing is not required, it is highly recommended as we've found vendors who display pricing are more likely to receive booking requests.
Learn more about how to set your pricing on The Bash.
📅 New Calendar Feature
A new and improved calendar section and feature has been added to profiles!

Planners can now browse through your calendar to view your current availability and easily request you for their event day.
If you have any blacked out dates on The Bash, those days will appear grayed out on your calendar and will not be selectable.

If you have any booked events, planners will see a small dot indicating you have an event that day, but they can still request you for that day.
Your past and upcoming booked events are now displayed below the calendar section in the "Booked Events" section of your profile. Like previously, your booked events from The Bash will show here along with any other outside events you have added.
Note: You still have the option to hide booked events if you do not want them displayed on your profile. Just log in to your account, find and click on the event(s) on your calendar, and uncheck the "show on public calendar" box.
🏆 Redesigned Awards & Badges
You'll notice that awards and badges on your profile have also been redesigned! Utilizing our full color palette, these badges stand out on your profile and highlight your biggest accomplishments!
You can see the new badges here in your Control Panel and if you have any badges embedded on your personal website, they've automatically been updated.
_
As always, updates like these are meant to drive our vendors more leads and bookings. Not only have we tested and seen success with these designs, but we also conducted user interviews with members of The Bash to collect their feedback directly.
If you have feedback that you'd like to provide regarding this update or any questions, contact us anytime.