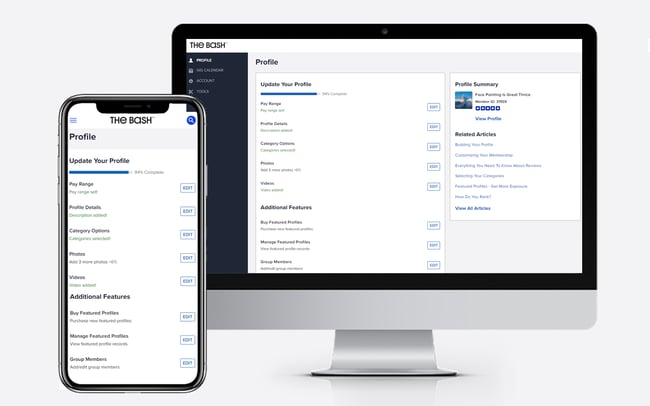 Exciting news—we are rebranding the Member Control Panel on The Bash! If you're new here, the Member Control Panel is where our members can manage their account, including their profile, leads, bookings, reviews, and much more.
Over the next several months, you may notice some new updates to the way the Member Control Panel looks. We will be implementing this redesign in a phased approach across the different pages and will be keeping this post up to date with all the latest changes.
About the Member Control Panel Rebrand Efforts
We have been working on rebranding many pages on the site over the past several months to match The Bash's new brand and now we're focusing on the Member Control Panel. Many of the upcoming changes you will see in the Member Control Panel will be updates to fonts, colors, and overall design. The end result will be a new, cleaner, and a more mobile-friendly experience for our members to manage all aspects of their account.
Profile Tab and Details Section Updates
You will notice that the Profile tab and the Profile Details section of the Member Control Panel have been rebranded first. Everything you know and are used to on these pages is still here, just rebranded with new colors and style, and is now more mobile-friendly! Check out the details and screenshots below.
PROFILE TAB
The Profile tab is the main screen where you can go to edit the different parts of your profile on The Bash. You'll see all the same functionality and options here, just updated with new fonts and colors.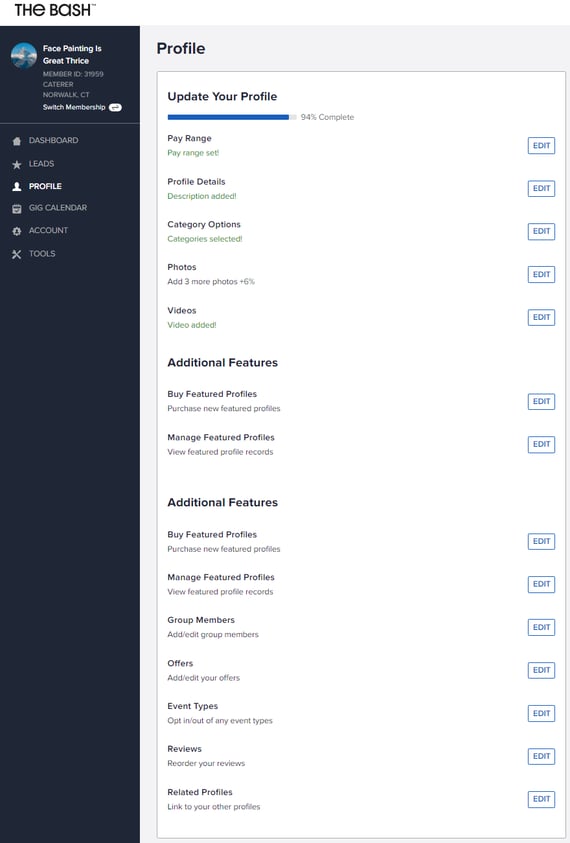 PROFILE DETAILS
The Profile Details section is where you can edit your profile details (profile name, location, travel distance, pay range), description, lead preferences, and your profile URL. All the same fields exist here as before, but they are organized in four separate collapsible sections. Just click any section to expand it and edit the details within it.

Questions?
We are rolling out these changes throughout the Member Control Panel as soon as they are ready in an effort to get these exciting updates to our members quickly. We will continue to update this blog with the latest and greatest updates that come along with this rebrand, so make sure to bookmark it.
As always, if you have any questions about any of these changes or need help updating any settings in your account, don't hesitate to contact us.