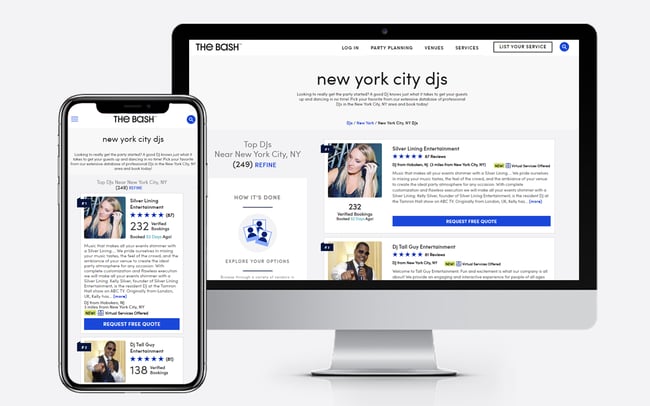 We are excited to share that all search results pages on The Bash have been rebranded! These new, sleek, and refreshed search results pages utilize our brand's new color palette and style, helping our vendors stand out even more to potential clients. Keep reading to learn more about this update!
About the Redesigned Search Results Pages
Search results pages across The Bash's site have been updated with our brand's new colors. You'll notice the pages are cleaner, more modern looking, and utilize The Bash's blue color palette. All party planners coming to The Bash will now see these updated pages when searching for vendors in their location!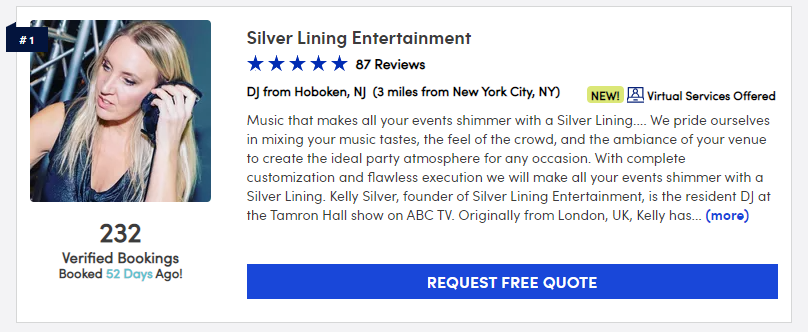 Take a Look at Your Profile
Now is a great time to revisit and refresh a few key aspects of your profile as it appears in search results. Here are the top 3 things we recommend taking a fresh look at.
1. Search Results Photo
When uploading a profile photo, you have the option to create an edited version of it to display as your search results photo. This photo can make or break whether a potential client reaches out to you or one of your competitors so ensure it is professional, high resolution, and that it stands out from other vendors. You'll also want to make sure that you crop your search results photo appropriately so that it fits and looks its best in search results.
Pro Tip: Use these 5 tips for choosing the best profile photo.
2. Profile Description
First impressions count! Take a look at your profile description as it appears in search results. The first 400 characters or so of your bio will display in search results, so it's important to start it off strong and capture party planners' attention as they're searching for vendors in their area.
Pro Tip: Use these 6 tips for writing a great profile description.
3. Opt in to Virtual Events
Are you offering virtual services? If so, make sure you are opted in to the virtual events feature on The Bash so you'll get a "Virtual Services Offered" icon added to your search results tile and your profile page. As soon as you opt in, you'll start receiving requests for virtual celebrations!
Pro Tip: Here's more information on our virtual events feature and how you can opt in.
What's Next?
We'll be continuing to apply this redesign to more pages on The Bash and soon to all vendor profiles so they match the color, style, and design of The Bash's brand. Stay tuned!
_
We always love hearing from our members! If you have feedback that you'd like to provide regarding this update or any questions, contact us anytime.