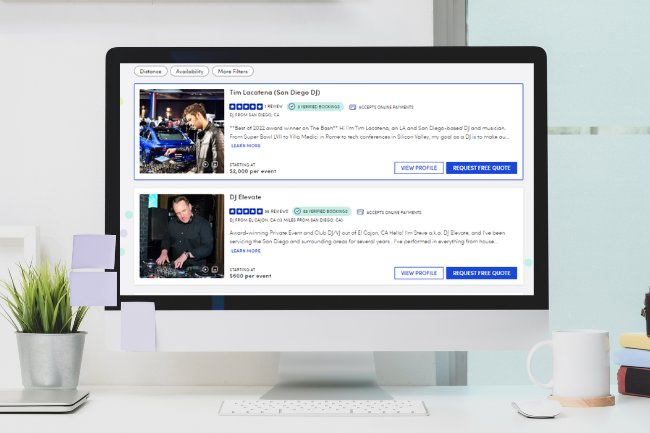 All search results pages on The Bash have been rebranded! These new, sleek, and refreshed search results pages utilize our brand's new color palette and style, helping our vendors stand out even more to potential clients.
About the Redesigned Search Results Pages
Search results pages across The Bash's site have been updated with our brand's new colors and style. You'll notice the pages are cleaner, more modern looking, and utilize The Bash's blue color palette. All party planners coming to The Bash will now see these updated pages when searching for vendors in their location!



Here's are some of the key things that have changed other than the design updates:
Character Count Limit on Search Results Tiles
The first 250 characters of your profile bio will show up in your search results tile both on desktop and mobile. This has been slightly reduced from around 400 characters, so make sure to take a fresh look at your description.

Starting Price Update
If you previously had your pay range set on The Bash, you will now see a "starting at" price "per hour" or "per event" displayed on your search results tile. The dollar amount that you have selected as your minimum pricing is what will appear on your profile as your starting price.

If you would like to add or update your starting price, you can do so at anytime by going to your profile details.

While showing your pricing is not required, it is highly recommended as vendors who display pricing are more likely to receive booking requests.
Learn more about how to set your pricing on The Bash.

Premium Label
In the rebranded search results, you will now see some vendors have a "premium" label on their profile tile. This new premium label is displayed on all of our paid members' profile tiles. Any of our unpaid members that are still in our discontinued Lite membership option, do not have any labels on their tiles.

Numerical Ranking on Search Results Tiles
The premium label indication mentioned right above has replaced the use of the numerical labels on profile tiles as a way to distinguish paid members from Lite members within search results. This update is part of the overall initiative to simplify search results tiles and make the "View Profile" and "Request Free Quote" buttons the main focus.

It's important to call out that where you rank in search results has not been impacted at all. You can still view your ranking by category and location in comparison to other vendors in the Search Results Analyzer tool.
Take a Look at Your Profile as It Appears in Search Results
Now is a great time to revisit and refresh a few key aspects of your profile as it appears in search results. Here are the top things we recommend taking a fresh look at.
1. Search Results Photo
When uploading a profile photo, you have the option to create a cropped square version of it to display as your search results photo. This photo can make or break whether a potential client reaches out to you or one of your competitors so ensure it is professional, high resolution, and that it stands out from other vendors. You'll want to make sure that you crop your search results photo appropriately so that it fits and looks its best in search results.
Pro Tip: Use these 5 tips for choosing the best profile photo.
2. Profile Description
First impressions count! Take a look at your profile description as it appears in search results. With the first 250 characters of your bio being displayed, it's important to start it off strong and capture party planners' attention as they're searching for vendors in their area.
Pro Tip: Use these 6 tips for writing a great profile description.
3. Check Out Where You Rank in Search Results
Take a look at where you rank by category and location in comparison to other vendors using our Search Results Analyzer tool. By default, the Analyzer is set to your primary category and your primary location (according to the zip code you've given us). However, you can also see where you stand in your secondary categories and in other locations covered in your travel radius.
4. Your Pricing
We recommend revisiting your pricing on The Bash to make sure it's up to date! With the rebranded search results, your starting price is now being displayed, so take a look and ensure it is accurate. If you don't already have a starting price displayed on your profile, we highly recommend adding it.
What's Next?
We'll be continuing to apply this redesign to more pages on The Bash and soon to all vendor profiles so they match the color, style, and design of The Bash's brand. Stay tuned!
_
We always love hearing from our members! If you have feedback that you'd like to provide regarding this update or any questions, contact us anytime.