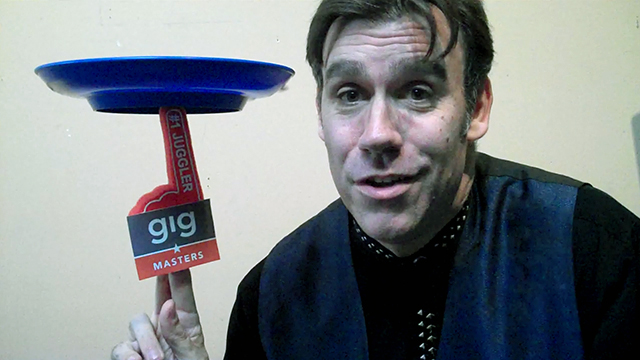 We've been getting a TON of positive feedback from our Rising Star and Best of 2014 awards. In no particular order, here are 100 happy customers showing some love for GigMasters...
" Thank you very much! This was totally unexpected. What a pleasure to be chosen to be acknowledged. " Accordionist Nada Lewis
" Thank you so much Gigmasters!! You have helped to connect me with so many gigs and wonderful people. I am proud to be a working member of the Gigmasters community. " Acoustic Guitar For Every Occasion
" I feel honored to win the award this is three years in a row for me I could not do it without the gigs. I always knew I could get the gigs and make my mark with the guitar because I work very hard at it. I could have probably gotten the gigs on my own but gigmasters makes it much easier because they do the leg work that I don't have to and thus I have more time to practice and hone my craft! Thank you gigmasters and thanks to all my great clients! Alan Lee Wilson/Portland, Maine " Alan Lee Wilson
" Wow! This is really exciting! Thanks so much to GIGMASTERS for helping to make us the business we are today! We couldn't have done it with out this amazing website! " A Farm To You Revue
" I have to thank my clients and Gigmasters for this award. Makes me feel appreciated as an artist only trying to offer the best of my craft. I aim for excellence and a satisfied customer. " Miami Telegram Singer
Watch member-submitted video testimonials on YouTube:
" I'm honored, and excited to try for another in 2015!! " Sam Adams
" Thank you to Gigmasters and our clients for both the Rising Star and Best of 2014 awards. We are always grateful for the opportunities to share "Aloha" and do what we love! " Aloha Hula NYC
" At the end of 2012 I had just completed my 3rd year with Gigmasters. This company has been a enormous help with gaining experience and traction in a business that was slowly becoming my sole source of income. Prior to that I had had a long successful career as an animator with Disney and many other high profile clients. In 2009 my husband had been diagnosed with cancer and I needed to find a source of income close to home to get my then child through her upcoming years of high school. After my husband passed ... in November of 2012 I myself was diagnosed with coon cancer and needed to abandon the workplace while receiving chemo therapy. After a long hiatus in December of 2013, I moved to be near family and my favorite doctors. I am now in a new state with... a clean slate (healthy : ) and to be given this award gives me hope that Gigmasters is again helping me along to stay on track with developing a new and prosperous year with an ever growing clientele. Cant thank you enough for being there. " Alisa Grodsky
" Each time we win an award or receive a 5-star review, we are always grateful to Gigmasters for making providing the platform for us to shine. " Amethyst Trio
" Thanks to gigmasters for giving us the opportunity to shine out for the past 7 years. We take this award very seriously and have worked very hard to maintain a high standard of excellence. Thank you GM! For recognizing that. " Amethyst Trio
" This Best of 2014 Award validates my team's efforts to give our clients more than they could ever imagine getting from an online booking service that even in this day and age is not taken as serious or is considered risky compared to a wedding planner or booking agent with a local physical office. " babyboom dj
" Thanks so much for this award. We worked very hard last year and it looks like it paid off. Our clients were wonderful to work with and we all had a great time. We look forward to 2015 and hope we can accomplish even greater things! " BeHeard! SoundProductions
" I am very pleased and grateful for this recognition. We at Best Entertainment Around work very hard to make sure our customers are more than satisfied with our service. We will try to make 2015 even better. Thank you again. " Best Entertainment Around
" Thanks for the Best of 2014 award! Loving Gigmasters! " Bill McEvoy - bagpiper
" Wow... Thanks so much for the award this year it has been such a great experience working with gig masters, and seems to be getting better every year. Thanks again gig masters. " Bobber the Clown
" Very happy to be awarded a Acoustic Guitarist Best Of 2014 Award….I feel potential customers will notice the accolade and give me further consideration for their event. Thank you gig masters team! " Brian "Fishmonger" Kelly
" Gigmasters.com is Irie! " Caiso SteelBand
" I am super excited about winning this Award ! It really is a culmination of my experience with Gigmasters, in that dealing with such a professional organization that gives you all the tools to be successful. To keep it short GigMasters gives you thier best which allows you to be your best for all your clients! Gigmasters has truly been a blessing! " Bruce Cooper Entertainment and Live Music
" Thank you Gigmasters, we love awards! We got on Gigmasters November of last year and we were short of one booking to get the award then. =( This time around we feel complete and ready for an even better year now that we have our lovely new award! Yeah!! We want more!! We want more!!! " Cateraoke
" I'm honored to receive the 2014 Rising Star Award, in the Marilyn Monroe category! I've won this award many times on my other Gig Masters site for my work as a Marilyn tribute artist. Now I'm grateful to earn this title again! As Marilyn might say, "Thank you ever so, Gig Masters!" " Camille Terry
" Thank you so much for this award. I would also like to congratulate you on having the best entertainment company provider on the web. I have gotten more leads and gigs from you than any other sources that I have. " Caricatures by Chris Greene
" I'm thrilled about winning "Best Of 2014!" I work hard to be excellent and I've been so happy my last several customers have submitted 5 star reviews. :) I've been with GM from pretty much the beginning. Thanks very much for the award because I'm sure new Clients will see that and it might sway their decision to book me. " Carol Tatum, Harpist
" We are honored to receive this elite recognition from GigMasters. We thoroughly enjoyed entertaining at every wedding during 2014, and would like to thank our wonderful clients for selecting Charisma to entertain at their event. We can't wait to start doing what we do best in 2015 – delivering the highest quality musical entertainment possible, and making memories that will last a lifetime! " Charisma - Live Dance Music
" I'm thrilled to win the "2014 Rising Star Award" in the "Mind Reader" category. As a nationally touring mind reader, I work in the corporate/private sector for nearly all of my work. These gigs come from a variety of sources and GigMasters is a vital piece of that puzzle. Thank you GigMasters for recognizing my hard work last year and for your continued assistance in supporting my entertainment, as well as the services and skills of thousands of other entertainers everywhere. " Chicago Mind Reader Mark Toland
" It's a great honor! Gigmasters makes our bookings professional and easy we're glad to be partnered with them " Chicago santas
" Thank you for this award I am honored and humbled at the same time.It continues to be a wonderful experience to share my talents with others and also working with gigmasters " chuck ayers charlottes voice of elvis
" Oh wow, what an honor to receive this Rising Stars Award! Circosphere is so proud to have earned this recognition and we know we owe this honor to all our spectacular circus talent, amazing booking team, and most importantly our wonderful clients who know how to throw a fabulous party. We couldn't have done it without you GigMasters, so thank you for providing a great platform! " Circosphere
" Gig masters was an awesome vessel to get our music out to the public and to book gigs with the private sector.we look forward to booking more of these awesome venues and are happy to accept this award. Thank you " Classic buzz band
" Thanks so much Gigmasters! Here's to more gigs & even happier clients in 2015!! " Covenant Child Pro-DJ Entertainment
" Thank you Gigmasters for the recognition awarding us with Best of 2014! Latin Soul Dance Entertainment is honored to be serving the party and dance entertainment community with some of our best work. We are looking forward to creating more dynamic shows in different genres and continuing to serve our clients with our professionalism and creativity! Here's to many more bookings and awards to come!!! " Cynthia
" Thanks so much for recognizing me with the "Best of 2014" award. Pleasing clients is my highest priority and I am grateful for the many positive reviews that have been posted on my profile. I also want to thank GigMasters for the very helpful advice provided about working with clients and for your excellent service and support of talent vendors like me. All the Best! Danny Jacobson – Legends Impressionist " Danny Jacobson - Legends Impressionist
" Dear Kevin: I am so excited and honored to receive GigMasters' "Rising Star" award for Top Impersonator of 2014! My previous "Rising Star" award from 2013 has made it possible this past year for me to get higher profile and better paying gigs in major markets well beyond my local area. This new award will now help advance my career even further as new talent buyers become aware of me through the added publicity. I want to thank you and the GigMasters team so much for honoring me with this marvelous award. It's a pleasure to work with you. Cheers! " Danny Jacobson - Legends Impressionist
" Derek Evan Entertainment, LLC is proud to have received the "BEST OF 2014" award from Gigmasters.com. We have gotten many great bookings through Gigmasters over the years, and we have connected with many new clients or potential clients! Our experience with Gigmasters has been overwhelmingly positive, and has played a big role in us expanding our business. We thank Gigmasters for all they have done, and we would also like to say thank you so much to everyone out there who has booked our services, referred clients to us, posted positive feeback online, or assisted or supported us in any way! We appreciate it very much and are honored that so many people have trusted Derek Evan Entertainment to play an important part at such special events in their lives! We are looking forward to many more great events and experiences in 2015 and beyond!!! " Derek Evan Entertainment, LLC
" I work relentlessly to be the best of the best. It feels great to have earned another award this year! " DJ Eddie
" Thanks to the Melodic eFX DJs we won this award for 2014! Keep up the good work! " DJ MELODIC NOTES
" It is a honor to receive another Best Of award from Gigmasters! I believe having this honor allows potential clients to know that my service and my performance is top-notch ! Thanks for a great partnership! " djtomsawyer
" Nothing compares to the feeling that a musician gets when his or her work brings joy to the clients being served. The Gigmasters Best of 2014 Award is a reflection of that joy as it represents the satisfaction of the clients who have blessed us with the opportunity to serve them at the most special moments of their lives--weddings, birthdays, milestone celebrations. One of our band's chief goals every year is to earn this award by making our clients' events unforgettable, so it fills our heart with gratitude to be recognized in this way. " Doc Rock-It
" YEAH Baby! THANK YOU, THANK YOU VERY MUCH! " Don
" Thanks gimasters for recognizing our work, it is an honor for us to win this price, and is an incentive to keep on working hard doing what we love. " Dream Face Art
" I am extremely happy for this honor. Thank you Gig Master for validating my effort and hard work. You all rock!!!! " Elena Burnett
" Thanks guys for awarding this to the 'Atlantic String Ensemble' in LA, CA. We only returned back to the states from overseas active duty this summer, and your site has really helped us start up our business again in a matter of months! Here's to many more years of gigs!! " Ellie
" I would like to thank Gigmasters for the award "Best of 2014" As a Band, we are given a chance to compete with other groups across the country by Gigmasters...This award helps!!! Thanks Gigmaster, YOU GUYS HAVE OPENED A NEW OPPORTUNITY FOR "THE POOYAI BAND. " ERNEST BREAUX
" Thanks Gigmasters for this award "Best of 2014. As a Wedding Minister it is an honor to be acknowledged for the labor of love you put into your trade. Gig Masters in my book is the best! MANY MANY THANKS! Rev, Ernest Breaux " ERNEST BREAUX
" Gig Masters, This "Best of 2014 Award" is so exciting! Thank you for this timely recognition; I'm humbled and most grateful for the platform you allow for entertainers, like me, to make available our music to be shared with people who seek (and appreciate) our crafts. Thanks again ever so much. Ernie Hines " Ernie Hines
" I was so excited when I received the email saying I had won a Best of 2014 award. I started this business so that I could be a stay at home mom during the week and earn a living on the weekends. Over the past 3 years it has spiraled into a hugely successful childrens entertainment business. I've been using gigmasters for the past year and couldn't be happpier. I consistantly get great leads and bookings. Thank you so much and I'm looking forward to a wonderful 2015! " Face Candy Art and Entertainment
" Thanks for the recognition and fine work Gigmasters is doing for music all across the world. We are honored to be among the elite at Gigmasters to receive Gigmasters Best of 2014 Award. We plan to double our bookings for 2015. " Gene
" I LOVE IT. LET'S WORK. NEXT AWARD PLEASE! " Gerald Foster Cocktail / Dinner Pianist
" This award should go back to you guys. The amount of business I get from you guys has truly helped me a lot. I LOVE GIGMASTERS!!! " dj reece
" Thanks you Gigmasters! I've been a member for 4 yrs and appreciate all of your help with my career! " Glenn Roth - Solo Instrumental Guitarist
" Working with Gigmaster since 2007 has enabled me to become the successful fortune teller I am today. It is a dream come true. I especially want to thankthe entire Gigmaster team for your professional,proactive and effectivesupport. Thank you and manyblessings! " Gypsy
" I just wanted to thank all of the Gigmasters team for helping me with this. I believe that every successful musician is because of a great team behind him or her! And a great thank you to all of the beautiful brides and grooms out there too!! You all rock!! We all won it! " Harp Inspirations
" I am very happy, excited, and grateful to win the Best of 2014 award! I just joined Gigmasters in June 2014. It has been amazing to be connected with people who otherwise would have been extremely unlikely to find me. Shortly after joining I got a job from a lady from South America who hired me to play for her daughter's wedding in a venue that I had not heard of or been to before even though it was only 30 minutes from where I lived for the past 20 years near Poughkeepsie, NY. Having lived in the Hudson Valley area for so long I had built up a reputation over the years, and I had a lot of music work. I moved to Madison, WI in early July and essentially started over as nobody knew me in this area at all when I arrived. Once I changed my Gigmasters profile to my new area I quickly received another gig, a 50th birthday party near Madison. In the past few months I went to Milwaukee for my first time to play for a wedding and I have had other performance jobs in the Madison area. Thank you again for these opportunities and for helping me get my music business back up and running so quickly in a new area. " Helen Avakian
" First and foremost I am humbled and honored to have gotten this award! As a musician I had been looking for a solid booking agent and found that they always seemed shady. FINALLY there is a place and a company I can TRUST to protect me as if I was their own! Gigmasters is a key component to my success and I look forward to growing as an artist, growing my business and growing with Gigmasters! -IanJames " IanJames Band
" I am so very proud to receive this award from Gigmasters because they have done so much for our company this year. The amount of leads we receive from Gigmasters is what keeps our company going. Thank you very much for helping small businesses like ours to grow and reach our target group. " Imagine Entertainers
" I feel great, and I thank my clients for letting me work for them, I look forward to working for them again. " J.A.The DJ / Singer
" Wow -what a surprise to get an award from GigMasters! I'm really happy to hear that my clients like my work - that's a great endorsement and really encouraging. I love it! " Jane Yamada
" I love the way Gig Masters promotes those of us who use your website. Although I fee needing only 4 reviews is too few to qualify for this award. The number should be 10 or 12 at a minimum. Keep those leads coming. Thank you Gig Masters. JAY JAY " JAY JAY
" We are very honored and pleased, especially considering the area we come from and our first year with gigmasters. We are also very pleased with what gigmasters has done for us in our first year. I would highly recommend you for bands looking for the best booking agency. " Jeff & A.J. Walker
" GigMasters is an amazing bridge between my clients and I. I'd never have the opportunity to meet and work with such diverse and wonderful people, and do what I love-performing-if it wasn't for the GigMasters website. " Jeff Pederson Worship Pastor/Singing Guitarist
" Gigmasters continues to be the best decision I've made as far as booking gigs and events that I never would have been privy to learning of had it not come through the Gigmasters "channel"...11 proud years as a member since 12/29/03, I thank you guys so much for three straight years as "Best Of.." and look forward to more successful years to come! " Jim Loftus
" I am SO honored to receive this award! I cannot stress how important professionalism and customer satisfaction is in the music business. Gigmasters has been instrumental (pun intended!) in growing my career as a performing harpist. Thank you Gigmasters! " Joanna Mell
" Let me thank the staff of Gigmaster for the opportunity to expand my professional entertainment services. This award allows me to express what a pleasure it is to obtain new clients and place a smile on their faces and joy in their heart. Looking forward to an exciting new year. John Pansze " John Pansze
" Very exciting! I believe in being the best!, I believe in excellence, Gig Master is the best! Always providing excellence. in service..Long live Gig Master!!!!love kisses. JoJo " JoJo Savard
" Thanks GigMasters for the Award and recognition, and being a great one-stop shopping source for people looking for all their event and party needs. I am thankful people still appreciate and hire caricaturists!. That said, I thank my customers for hiring me and giving me the reviews! " Judy
" Hollywood has Academy Awards and Gig Masters the Best of 2014. Thanks so much for the honor as Best Party Psychic of Los Angeles. " Judy Hevenly
" I would like to thank all the folks at Gigmasters for giving me the best of 2014 award. I have nothing but good things to say about my relationship with the Gigmasters organization. I have been a member for many years and Gigmasters is head and shoulders above the competition. I always recommend Gigmasters to all my musician friends looking to boost their calendar of bookings. Gigmasters is the number one online booking agency. Thanks again Keith Coleman " Keith Coleman Elvis impersonator
" I'm very honored that Gig Masters has selected me to win this award. It means that my customers are happy as well. I always try to keep that in mind when I'm planning an event. I think one of the keys for me is to ask a lot of questions to my client during the planning process and try to the best of my ability to incorporate those ideas into the show.Our customers feel you planned it just for them. I value a long term relationship with my clients, they may not do business with me this year, but they might next year. If they aren't happy with my show, they will never have you back again. If they are, they may tell a lot of others about you. Treat people with respect, and be friendly, serve people and you'll have a life long friend. Thank you again Gig Masters! One of the best things I've ever done is to join this fine organization. " Kevin Horner Live
" Thank you Gigmasters for the recognition and your assistance in becoming a full time musician again. After 30 years of being a "hired gun", your service has really helped me take the reigns and become an ensemble/band leader. Aland Music is looking forward to an even more lucrative 2015! " Keven Aland
" Oh, we are so excited about winning this special award! We're grateful, too, because we've won GigMaster's Rising Star Award for five years in a row. " Lady Peachena, lead singer/booking agent of THE LATE SHOW'S GOSPEL CHOIR
" Wow, I am just so excited & honored to have won this award again!! GigMasters has been, and continues to be, absolutely invaluable to my business as a professional entertainer...I am constantly impressed with their attention to detail and their willingness to actually listen to us, the artists, when it comes to improving their online booking tools (both on the website & the new mobile app). Continuing my membership with GigMasters every year is a no-brainer...absolutely worth every penny! " Lisa Smith
" I'm so happy that I've scored the #1 Juggler Award for the fifth year in a row for Gigmasters! Five is my favorite number which means I'll be looking forward to at least five more years of primo bookings with the help of the Gigmasters team. Thank you all for helping me to be a small part of being the life of the party! " Lou Johnson
" IT IS ALWAYS GREAT TO BE RECOGNIZED FOR HARD WORK AND COMMITTMENT - GIGMASTERS HAS DEFINETLY HELPED MARIACHI NUEVO SONIDO REACH CLIENTS THROUGHOUT THE WORLD - WITHOUT GIGMASTERS ;WOULD NOT HAVE HAPPENED. " MARIACHI NUEVO SONIDO
" Mariachi Trio Los Azulado had our busiest year so far...thanks to all of the leads sent to us by gigmasters. It seems like 2014 came and went so fast. We played a wide variety of gigs: weddings, birthdays, family reunions, corporate events, engagements, serenades...You name it...We played it! Gigmasters has an excellent reputation that clients can trust. We can't wait to see what leads Gigmasters will be sending us in 2015! " Mariachi Trio Los Azulado
" I am thankful to GigMasters for helping me connect with clients..it is a great honor and pleasure to be on your team!!! " Mario Vuksanovic Wedding / Events Guitarist
" Meet The Beetels would like to thank our wonderful clients and, of course, Gigmasters for connecting us with them. I think our favorite features of Gigmasters are the all the amazing people we have been privileged to meet and entertain and all the smiles this service has helped us to bring. That in itself is the greatest reward. " Meet The Beetls
" GigMasters is awesome! It's through your auspices that I've had the pleasure of performing at some of the highest-caliber events of my long career, including the 2013 Concours D'Elegance and the "welcome home" party for Facebook co-founder Sean Parker (the nicest billionaire I've ever met) when he and his beautiful bride returned from their Hawaiian honeymoon! GigMasters has inspired me to turn in some of my best performances -- hence your kindly honors (for the second time, no less)! Let's keep the ball rolling, and here's to a FAB '15 -- for ALL of us! Thanks SO much, my friends! " Michael Levine, Prize-Winning Pianist
" Thank you very much. I love Gigmasters. The people are so helpful and it is truly a 5 star organization. I feel it has made me a better performer and musician. Again I appreciate this award " Mr. Squeezebox
" Gigmaster's is one of the most useful tools that I have come upon in my freelance career (25 years). Easy to navigate, always available via phone call. Helpful, and effective! " Paul Huppert
" Thanks! So often people only bother to review if something is negative. So, I really appreciate both my clients and Gigmasters taking the time to send a pat on the back. Made my day " paula-tabor
" We a at RDPLEX Films are proud to be recognized with this award for 2014. " RDPLEXFILMS
" It is always nice to gain recognition for hard work that is done, but the real credit goes to the clients for hiring and then reviewing Red Valley Media Group. It is only through them that we are able to grow and achieve success. " Red Valley Media Group
" It is nice to be recognized for accomplishments, but the real thanks goes to the clients for hiring and the reviewing Red Valley Media Group. Nothing is possible without them. " Red Valley Media Group
" We just wanted to say thank you for the recognition. We appreciate you guys and the professional manner in which you serve your clients. We feel very fortunate to be one of the recipients of the Best of the Best awards for 2014. We are definitely looking forward to 2015 and another successful year with GigMasters! Thanks Again! Rewind Of the Shoals " Rewind Of the Shoals
" Hard Work, Excellent Customer service, A wide variety of options for my clients has won me this award 4 times since 2008 and over 500 testimonials! Thank you to 686 clients to date who decided to book my service in confidence that I deliver on my promises. Hard Work, Excellent Customer service, A wide variety of options is GigMasters goals as well and I'm glad to be side by side with GigMasters in this goal as we look forward into 2015!! " Rick Torres Bay Area's #1 Elvis Impersonator
" GigMasters has been absolutely essential in my transition from NYC to Chicago. It has allowed me to maintain my artist lifestyle without having to get a part time job to pay the bills. The interface is seamless and support staff are there 24/7 whenever I need them. GigMasters truly has saved my life financially, but also has given me the freedom to continue pursuing my true passion: original music. Thank you GigMasters! " Rory Sullivan
" It was GigMasters that totally kickstarted my Saxophone Player business. Since 2012, my business has increased every year since. I should also mention that I have performed for some amazing gigs through GigMasters. I look forward to every GigAlert! Thank you!! " Ruben Cantu - Saxophone/Vocalist/Country
" Thank you for this award. You made my first year of being Santa Claus very successful. Big Thank you to all the people that filled out the review and gave me 5 stars giving me an average of 5 stars. That's one star more than I needed to get this award. " Santa Claus Greg
" I'm honored to get this award, especially since I know I received it because of the great reviews my clients submitted after the shows. Of all the different types of entertainment, I believe standup comedy has the toughest time totally connecting with an audience. It rarely goes just ok, like it does for other entertainment. Very few comedians can connect with an audience for an hour, while still being appropriate in tone and language for a corporate group. My over 2 decades as a touring standup comic has gotten me to a place where I consistently bring big laughs. My life experiences has given my material something beyond just laughter, as I pride my show for the moments when the laughs also have heart and soul to them. I thank Gigmasters for being such a great platform to raise my profile to a larger audience! " Scott Long
" WOW, I cant believe I won the Best of 2014. I couldn't of done it without Gig Master. Thank you Gig Master for sending me so many great leads and always being the best at what you do. No other sites can match what you offer in service, leads and overall how you manage the site and your customers. Shimmy Giggles Entertainment love's Gig Master! " Shimmy Giggles Clown Entertainment and More
" This is a great honor, not one I take lightly, thanks to the people who has hired me for the jobs. Could not have this award without them and Gig Masters. Thanks so very much this is a great blessing. " Shortcakes the Clown
" Thank you GigMasters! We value our partnership with you and appreciate all of the new fans that you have introduced us to! 2014 was certainly a banner year for us and we are excited about an even busier 2015! Cheers! " Steve McCann Jazz
" My affiliation with GigMasters has been a very positive experience from the moment I joined several years ago! I am extremely grateful for having such an efficient way of connecting an artist/entertainer with a sponsor. Keep up the great work GigMasters and best wishes for 2015! " Steven Saulls
" It certainly is a great honor to receive the 2014 GigMasters Rising Star Award for Illusionist 3 years in a row. Thank you Gigmasters. This whole experience has been amazing and thanks you all I am able to make a living doing what I love. Thanks. Peace and Love. " Taylor (Pelican Trapper) Lewis
" Ever since I started in bands at a young age, it was never about pushing to make it "big" in the music business.....for me, it was always about the celebration-at-hand...whether it's a wedding, anniversary, birthday party..whatever.. ....because it's about the positive things in life.....we've played for a couple's first dance together...and a couple's last dance together.... ....for me...it's really about setting up the joy of life for those few hours.. ......so...for that reason, the Mojo Manny band is honored to receive this award by Gigmasters & our clients...thru these gigs, we've met sooo many wonderful people...Thank you!!!... ..Now on to the next & let's rock this Rock!!!...LOL!.... " the "Mojo" Manny band!
" Fantastic! and very appreciative! The Clarion Voices continues to work hard to meet the musical needs of all of our clients and exceed their expectations in terms of vocal quality, musicianship and professionalism in all of our performances. Thank you so much! " The Clarion Voices
" We are honored to be selected as the Gigmasters "best of 2014 Award Winner! A big heart felt thank you to all of our wonderful customers and the Gigmasters Team! The Gigmasters platform is structured beautifully so that its super easy to use while providing customers and vendors with a first class experience! Thank you Gigmasters for doing what you do! ~The Photo Booth Guy! " The Photo Booth Guy member ( id 115007 )
" I sincerely appreciate GigMaster's great communication and service! 2014 was a really fun experience for me on GigMasters, which brought me fantastic, friendly clients and terrific gigs. Keep up the good work, GigMasters! " Thom Moore, Professional Bagpiper
" I would like to thank the clients that took the time to give me a review. I always try my very best to draw caricatures that everybody approves of and without GigMasters help as well as that of the customer, I may not have won it. You need to be seen to be seen. My short time with a GigMaster profile, has made all the difference to my success. " Topdrawart@caricaturesbydavid
" It was great to hear that our combined efforts to get the word out and offering a professional Game Show offering has paid off as being the host who has earned the most revenue in my category of Game Show Hosts. Gig Masters does an excellent job putting my promo page in front of so many possible clients that I don't have to be concerned weather or not I'll be busy with gigs every month. It's only been 10 months and I couldn't be happier with my relationship with Gig Masters. Any entertainer out there would be wise to join the ranks of the thousands of others who have hired them to get the word out, because they're pros at it! " TV Game Shows-5 Different Shows Offered
" We are so excited to be recognized for our hard work this year! We love partnering with Gigmasters!! " Venus Envy
" It is very gratifying that all the couples who have chosen me to perform their Wedding Ceremony have been highly satisfied! I strive to be a source of calm and reassurance for stressed Wedding Planners. I also enjoy the inspirational/motivational speeches and am retained for. Gig masters certainly simplifies the inquiry and booking process. " Wayne Hill Sr.