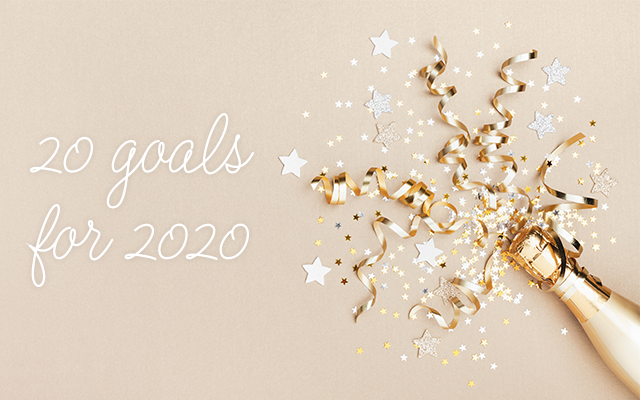 Ready to kick off the new year with new goals? There's no better time than the beginning of a new year to start fresh and set new goals for your business. We figured we'd help you kick off your 2020 goal setting with 20 suggestions from our team here. Whether you're a member of The Bash or not, we think you'll find these helpful!
Set your business up for success in 2020 by following our top recommendations below.
20 Goals for 2020
Take a fresh look at your profile description. Reread your business's profile description. Is it free of errors and written in complete sentences? Is it detailed enough to explain what you do and why clients should hire you? Consider sending it over to a friend or colleague to get a second set of eyes on it. And, don't forget to update it with any new accolades or notable events from 2019!

Refresh your photos. Go through your profile photos and remove any old or low resolution photos. Freshen it up with more recent, high quality photos from your 2019 events. Consider reaching out to your past clients for some photos from their events or make it a priority in early 2020 to capture some at your upcoming events.

Capture new videos. Along with new photos, make it a goal to capture videos at your 2020 events to share on your profile, personal website, social media, and more! On The Bash, we see vendors with video getting 3X more bookings so your time and investment in capturing video is well worth it.


Follow up with clients to get reviews. Reviews are important to your business's success! In fact, according to the 2018 Local Consumer Review Survey by Bright Local, consumers read an average of 10 reviews online before being able to trust a local business and 57% of consumers will only use a business if it has four or more stars. Make sure you're following up with clients for reviews.


Respond to all of your 2020 reviews from clients. Whether on The Bash, other event marketplaces, Facebook, or Google, try to reply to all of your reviews from clients in 2020. Not only is it a courteous thing to do when someone gives you a positive (or negative) review, it also gives future clients a glimpse into your personality and professionalism.

Reorder your client reviews. Did you know you can display your client reviews in any order you'd like on your profile? Start the year with the best and most recent reviews at the top of your profile on The Bash. Reorder your reviews here.


Organize your lead inbox. Start off the year organized by creating new folders in your lead inbox on The Bash. Creating and naming your folders is a great way to make sure no gig falls through the crack. We typically see members create folders such as booked gigs, upcoming gigs, and past gigs. Organize your inbox.

Cut down your response time. If there's one thing you decide to focus on in 2020, make it a quicker response time. On average, The Bash members respond to client requests within 9 hours. If you really want to aim high, try responding within 6 hours, the average respond time of our top bookers!

Refresh your saved responses. A great way to help cut down your response time is creating saved responses for different types of client requests. Create a few new versions or update your current ones for the new year and new clients!

Opt in to text message alerts. Make sure you opt in to text message alerts if you aren't already. This will ensure you receive a text as soon as you receive a lead or a client messages you.

Enroll in online payments. Clients love the ease, security, and speed of online payments. Start the year off by enrolling in EventPay, our online payment system. More than 80% of events booked on The Bash are booked by members enrolled in EventPay!

Require a deposit due at booking. Deposits protect you as the vendor in case of a cancellation and clients are less likely to cancel if they have already paid the deposit. If you're enrolled in EventPay, you can easily require a deposit at the time of booking, and we recommend it! Just make sure you select that option for every quote.

Keep your calendar up-to-date. Make 2020 the year of organization! Keep your calendar on The Bash as well as your personal calendar up-to-date with your bookings to make sure you don't overbook or book on a day you're not available for. On The Bash, you can actually blackout dates that you aren't available for so you don't receive leads for those days.


Follow up with clients via email, text, and phone. As soon as you send a quote to a client for their event, make sure you're following up personally to review your quote and see if they have any questions. On The Bash, you receive the client's contact info as soon as you submit a quote. We find a phone call is most effective, but email and text can work well too!

Set goals for social media. Trying to be more social in 2020? Set some goals and create a rough calendar of posts you want to share on social media in the new year. Clients will likely check out your social accounts in their search, so make sure yours looks good and has some recent posts.

Set your booking goals at the start of the year. Determine how many bookings you want to secure in 2020, if there are any event types you want book more of, and what your revenue goal is. This will keep you working hard throughout the year to hit those goals! Reminder: Any bookings you get from The Bash must be recorded on The Bash. Not only is it part of our user agreement, confirming bookings also enable you to rank higher, get reviews, and receive awards.

Network and make more connections. Make it a goal to add new people to your network, whether it's by attending more industry events, networking on social media, getting new business cards made to hand out at events, or even just having more conversations at personal and professional events.

Understand The Bash Event Protection Policy. Our Event Protection Policy outlines policies and procedures by which our vendors and clients using the site must abide to. Make sure you familiarize yourself with our vendor and client cancellation policies.

Utilize our new member tools. If you're a newer member to The Bash, we recommend two tools in 2020 for you: 1. Utilize our Digital Guide to Success. 2. Browse our Member Blog for tips, member spotlights, and more!

Familiarize yourself with The Bash platform. We recommend taking some time to familiarize yourself with your Member Control Panel as well as the Client Control Panel on The Bash. This will ensure you're utilizing your membership successfully and will help you guide clients if they have questions along the way of booking you. Of course, our team is always here to help as well if you or clients need assistance.
Have some of your own resolutions for 2020? Add them to our comment section below. We'd love to hear from you!
__
We wish you the best and most prosperous 2020. Our team at The Bash is always here to support you with questions, booking tips, profile help, you name it! Just reach out to us at info@thebash.com.