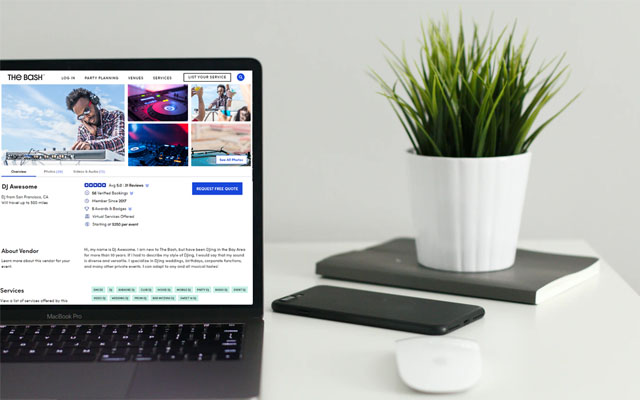 Now is the time to work on your business and check off some of those to-dos that you may have had on your list for a while now, like refreshing your profile on The Bash!
If it's not already, one of the boxes on your checklist should be to refresh your profile on The Bash. Set aside some time to ensure your profile makes the best first impression to any potential planners seeing it on The Bash. Use these 6 tips for updating your profile.
6 Tips for Updating Your Profile on The Bash
1. Feature Your Best Photos/Videos
Go through all of your profile photos and/or videos to determine if any should be removed and which new ones you can upload! Make sure they're recent, high resolution (remove those blurry ones), and include some of you in action at an event or of your happy clients.
Pro Tip: While we recommend having at least 10 photos, our most successful members have an average of almost 50. The more you can add to your profile, the better!
2. Update Your Profile Description
Your profile description is one of the first things party planners see both in search results on The Bash and when they click on your profile. Make sure it's professionally written, uses complete sentences, and fully describes what you do. If you're currently available for virtual and contactless events, include that in your description!
Pro Tip: Our top 100 bookers on The Bash have an average of 1,975 characters in their profile description. Not sure where to start? Keep these 6 tips in mind when writing your profile description.
3. Display Your Pricing
Is your pricing set on The Bash? If so, is it up-to-date? Party planners are looking for detailed and transparent pricing information when searching for vendors on The Bash. Having your pricing displayed on your profile will help to better set expectations when clients are reaching out to you and attract those who are ready to work with you in your price range.
Pro Tip: If you're not sure what to set as your pricing, we can help! We'd be happy to provide the average booking amount for your category and in your location as a starting point. Just give our team a call.
4. Request New Reviews
It's always important to have recent and positive reviews from clients displayed on your profile, but it's even more essential right now. If there are clients who haven't left you a review, follow up with them and see if they wouldn't mind taking the time now to do so. More reviews now will lead to more bookings in the future!
Pro Tip: You can request reviews from the Leads tab of your Control Panel on The Bash. Just find the Gig ID#, click 'view' and then click 'feedback reminder' for the client you'd like to contact. You can also contact us to do it for you! Learn more about how reviews work on The Bash.
5. Respond to Your Reviews
Take a look through your reviews and try to respond to all of them! This will show potential party planners that you value your clients and their feedback. It's also a great way to give them a glimpse into your personality and how you communicate with your clients.
Pro Tip: Make sure your response is personalized for each review. Use the client's first name, highlight your favorite part of their event, and include how much you enjoyed working with them to bring their event to life. Start responding to your reviews.
6. Utilize Your Calendar
Make sure your calendar is up to date on The Bash! This means blacking out any dates that you're not available for as well as displaying any upcoming events on your calendar, whether from The Bash or not.
Pro Tip: Adding an outside booking to The Bash can help propel your search results ranking. All you have to do is add the event to your calendar and pay the 5% booking fee—the event will count towards your booking dollars on The Bash and you'll be able to collect a review from the client! Learn more.