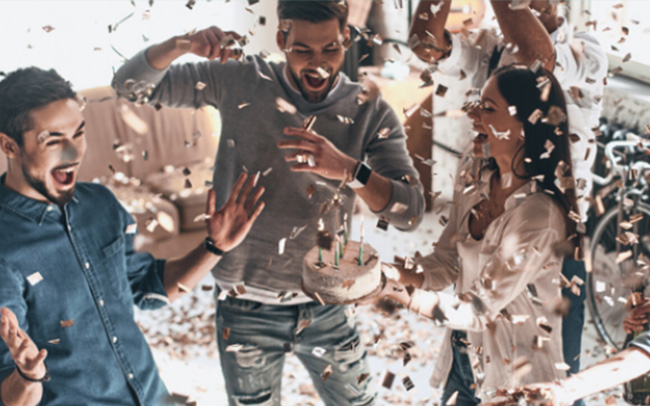 It's no secret that great online reviews are essential to the success of any business. The more positive reviews you can collect for your business, the more likely it is that party planners will contact you and book you for their event.
In this blog, we have put together everything you need to know about reviews on The Bash, including how you can request them, respond to them, and display them in any order on your profile. Let's get started!
How You Receive Reviews
For any events that are booked on The Bash, the planner will receive a "Review Request" email automatically the day after the event. If they haven't submitted a review after 14 days, they will receive an automatic reminder. Once the planner submits their review, it will be immediately posted to your profile!
Make sure that you confirm your bookings with The Bash so planners can leave you a verified review. If you are a newer member looking to kick start your reviews on The Bash, consider adding an outside booking to your profile—you'll receive credit towards your booking dollars (which helps you rank higher in search results) and you'll also be eligible for a review.
How to Request Reviews
If there are planners who haven't left you a review yet, we recommend following up with them and sending them a reminder through The Bash! Remember, more reviews now will lead to more bookings in the future!
How to send a review reminder on The Bash:
You have the ability to trigger a single 'review reminder' email via your Control Panel. This option will become available 7 days after the event date. Just follow these steps:
Log in to your Control Panel.

Go to the Leads tab of your Control Panel

Enter the gig ID# in the 'Search by Gig ID#' field and click 'View'

On the next page, in the 'Client' column, click '[feedback reminder]' for the planner you are contacting.
You can also just contact us and our team can trigger the review reminder email and additional follow-ups if necessary!
How to Respond to Reviews
We highly recommend responding to all reviews on your profile, whether negative or positive! Responding not only gives you the ability to showcase your personality a little more, it also will show that you value your clients and their feedback. We suggest you make your responses personal by including the planner's name and highlighting your favorite part of their event.
How to Respond to Your Reviews on The Bash:
Log in to your Control Panel.

Go to the Leads tab.

Enter the Gig ID# in the "Search by Gig ID#" field and click 'View.'

On the next page, click the 'Client Review' link in the 'Hired' column.

Enter your response and click the 'Save' button.
How to Organize Your Reviews
You have the ability to display your reviews in any order that you'd like on your profile! We recommend putting your best and most recent reviews at the top and any potentially negative reviews last.
Organize your reviews on The Bash:
Log in to your Control Panel.

Go to the Profile tab.

Click the 'Edit' button associated with 'Reviews'.

Here, you will be able to change the order your reviews appear in. You can either drag and drop your reviews into the desired order manually, or you can click the "Order by Recent Event Date" link at the top of your reviews.
Important Note: Any new reviews that you receive will automatically be displayed at the top of your reviews, even if you have previously sorted by recent event type or manually reordered them. We recommend revisiting the order of your reviews often to ensure your best and most recent reviews are being displayed first.
How to Display Reviews on Your Personal Website
You've earned your reviews—use them! You can showcase your reviews on your business's website with our Portable Reviews Widget! With an easy-to-use html code generator, you simply need to copy and paste the html code into your personal website to start displaying reviews. Find out more in our Portable Reviews Widget blog post.
_
Don't forget, if you receive 4 reviews of 4 stars or higher throughout the year, you'll receive The Bash's Best of Award badge on your profile.
If you have any additional questions about reviews, please contact us at (866) 342-9794. We're always here to help!