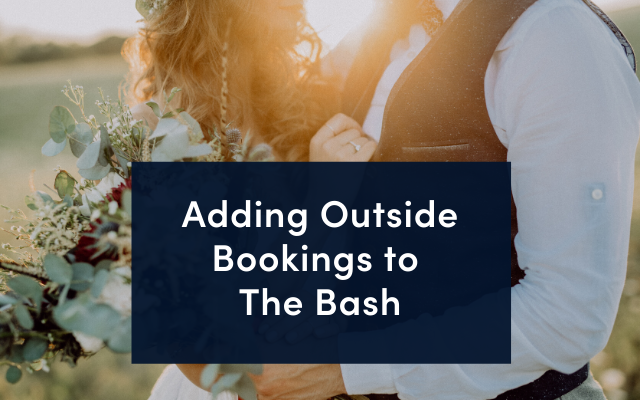 Adding a booking for an event that happened outside of The Bash or for a client that may be unfamiliar with our booking system is highly valuable for a few different reasons...
Benefits of Adding Bookings to The Bash
Search Ranking: The booking will count towards your booking dollars once you pay the 5% booking fee for it, which is one of the three factors that help to improve your search results ranking.
Eligible for a Review: Once the event is over, clients will be able to leave you a review, just like any other booking on The Bash. More reviews lead to more bookings!
Access to Online Payments: The client will be able to easily pay you online for the service and you, as the vendor, will receive the deposit/balance payments directly to your bank account in 1-2 business days if you're enrolled in online payments.
Peace of Mind: All bookings on

The Bash

are backed by Our Guarantee. Clients can take comfort in knowing that they're experience will be stress free from start to finish.
To get credit for an outside booking, follow these steps:
Log in to your

Control Panel and go to your Calendar.

Click the 'Add Gig/Blackout Dates' link.

Select the first option 'I

'd like to initiate a booking on The Bash'

Enter all details about client, the event, and your service information.

Click the 'Book and Pay Fee' button.

You will be charged the 5% booking fee (minimum $20) and you'll receive credit towards your booking dollars and star rating, should the client leave you a review.
Please note: You can only add an event that has a future date or an event that has occurred within the past 30 days.
If you have any questions about adding an outside booking to your account, contact us anytime!