Earlier this year we decided to make a YouTube commercial, but we weren't sure where to start. We live in Connecticut (not Hollywood) so we had to get creative with our resources. Long story short, we found our actors right under our nose...on GigMasters!
We literally did a search on GigMasters and quickly came across some talented prospects. We recognized comedian Lauren O'Brien from her hilarious Facebook parody video. We knew right away that she was the right fit for this project, so we booked her immediately.
Clown By Day, Guitarist By Night
Coincidentally, Lauren's husband has been a successful GigMasters member since 2011. He's Matt Commerce, who's a guitarist from Los Angeles with 65 verified bookings in just 3 years. He's actually not kids' performer -- he just plays one on YouTube. Since Matt and Lauren are married in real life, we knew it wouldn't be hard to find the right chemistry. Fun fact: Matt's sister, Jasmine Commerce, happens to be another talented musician on our GigMasters too. It's a family affair!
In the one-day shoot we filmed a variety of scenes with different characters. We hired Painting Faces by Alecia from GigMasters as our makeup artist for "The Clown" sketch. She did an amazing job! We may release that video another day as a "bonus feature" but for now, this photo says it all: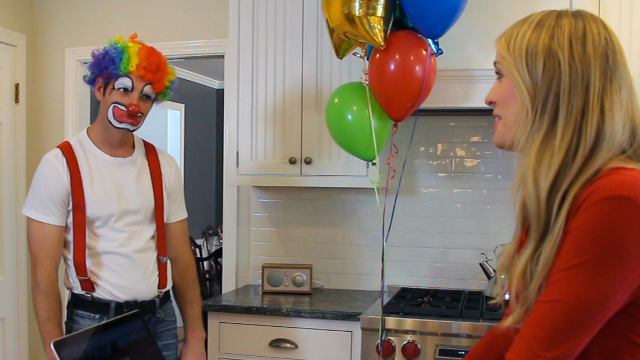 Matt was a good sport. We thought the princess costume would scare him away, but he was surprisingly comfortable wearing it! With his laid back California personality, he was fun and so easy to work with. As seen on YouTube, he played an amateur ventriloquist with "Tommy the Dummy." We thought the doll was creepy, but Matt made a new friend that day.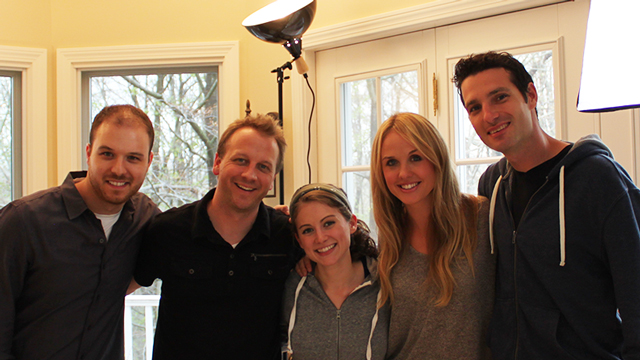 The crew: Brian Garofalo, Peter Gavin, Mary Ellen Skawinski, Lauren O'Brien and Matt Commerce. Photo by our Executive Producer, Marissa Latshaw.