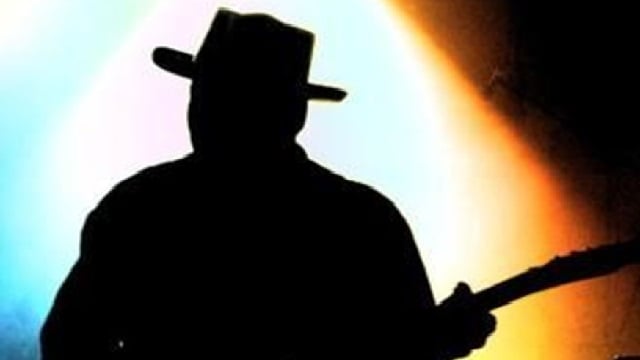 David Payton is one of GigMasters' most sought after performers. This Atlanta-based "Americana" musician has been gigging his way to the top of our rating lists for a few years, and is showing no signs of slowing down!
In addition to earning over $100,000 in booking revenue through GigMasters, David's accolades include the GigMasters Loyalty Award, Rapid Response Badge, "Best Of" Awards from 2012, 2013, 2014, and 2015, the Rising Star Award for his category in 2015, more than 100 shining reviews, and over 200 confirmed bookings! David is rated as our #1 Singer, Guitarist and One-Man Band in the USA.
We love to highlight our awesome members, so we caught up with David to chat about his recent success!
ALL ABOUT DAVID
Music has been a lifelong passion for David. At the age of six, he began performing with his parents in church. "I knew as soon as I was self-aware that I wanted to be a singer/guitarist," says David. Despite the fact that he was entirely self-taught, it didn't take long for David to hit a high note…
When he was just 13 years old, David's first band played on David Letterman's local TV show multiple times! From there, his passions and talent only grew. Influenced by popular bands and musicians like Elvis, the Beatles, CCR, Grand Funk, Bad Company, and Kansas, David's dynamic style flourished. This allowed him to play a wide array of music at many different types of events.
David is a creative through and through. He attained his Graphic Arts education from the Art Institute of Atlanta before moving on to be a full time musician! His business savvy ways, musical talent, and undeniable cool factor have earned him some awesome gigs, as well as making him extremely successful on GigMasters!
WHAT SUCCESS SOUNDS LIKE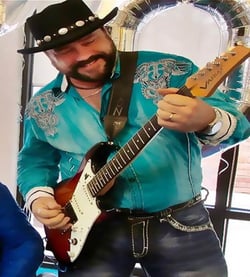 We asked David what his favorite gigs have been, and his answers didn't disappoint.
David played "Georgia On My Mind" at the Georgia World Congress Center for an audience of 25,000 strong, including influential attendees such as various CNN personalities and Condoleezza Rice! Another of his favorites took place at a festival, where David played a 5-minute guitar solo in front of 63,000 people as the lead guitarist for Grammy Award winners Mylon & Broken Heart!
The mic doesn't drop there; David has also had incredible success with the many bookings he has received through GigMasters. Many years of hard work and dedication to his clients have given David his perfect 5-Star rating!
Here's what one event host had to say about her experience hiring David to play at her engagement party last year:
"David was AWESOME! He was easy to book and communicate with. He was very attentive to what we were looking for before our party. He showed up early, got all set up and was ready to perform before his actual start time. We were thrilled with his performance. He even got the crowd going by joining them for a short stint on the dance floor. We will definitely be using him again and I honestly don't think you could get anyone better! Book him…you will have no worries, no regrets!" - Kathryn M. (Atlanta, Georgia)
WORDS OF WISDOM
David was kind enough to share his "secret sauce" with GigMasters to help other members find great success, too! Here are 3 important tips to getting great gigs on GigMasters:
1) Promote your talents using video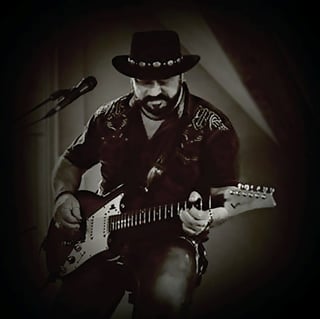 David's clients have indicated that his professional video demos were his best selling point when it came to booking him compared to his competition!
He recommends posting authentic, professional material, while staying away from amateurish webcam-shot videos. Instead, have someone take footage during a live performance so that clients will get an accurate idea of how you will look and sound at their event.
Another great idea: create a short video comprised of snippets of you performing a few of your best songs. Having a multi-song video allows leads to see more of your repertoire and keeps it interesting and engaging!
2) Encourage your clients to leave a testimonial
David admits that he had a bit of a slow start on GigMasters. To help gain traction it's helpful to ask those first few, all-important clients to give you a positive review on your profile!
3) Build ongoing relationships with clients
By building strong working relationships with your clients, you will create repeat customers that trust you and love your work! David explains that customer service is of the utmost importance to foster repeat bookings. He says, "If you provide the best quality service for a reasonable price and be easy, friendly, and professional to work with, they have no reason to go elsewhere!"
While many of David's return clients contact him directly, he always processes his bookings through GigMasters. Adding your independent gigs to your event calendar on GigMasters can help you improve your search rankings, and allows these clients to leave you a review!
David Payton is just one stellar example of how GigMasters can give musicians the platform to turn their passion into a business! Rock on, David! We can't wait to see what new successes 2016 will bring for you.