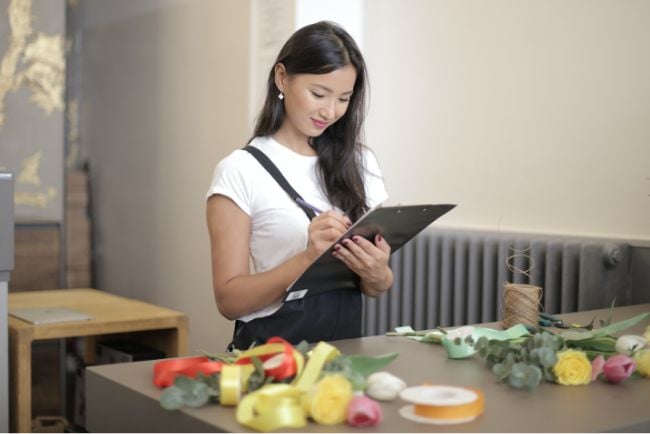 You followed up with your lead, responded to their questions, and have been booked for their upcoming event—congratulations! The work doesn't end here, though. It's time to prepare for the event!
Go From Booked to Event-Ready with this Pre-event Checklist
The weeks and days leading up to an event can be stressful. While things out of your control can happen, you can ensure you're prepared for the event as much as possible by closely following the checklist below.
1. Event day schedule
The most important part of preparing for an event is confirming the day-of details and schedule with your client. Ahead of the event, make sure to discuss your arrival time, time allotted to set up, start time, breaks, break-down time, and length of time you will provide your service.
2. Day-of point of contact
Depending on the event type, the client that booked you may not be the point of contact for the day-of. If they are, be sure you have their personal contact info. If someone else is the main point of contact for the event day, make sure you retrieve their contact info so that you know who to contact if any issues or questions arise that day.
3. Contract
Once the event is booked on The Bash, you can generate a contract through The Bash or create your own contract to share with the client. Either way, ensure you have a contract with the client and that it is agreed upon and signed by both parties ahead of time. Contracts protect you and the client—so don't forget this key step!
4. Confirm special requests
Depending on the service you provide and the type of event you are booked for, your client may have special requests. While you might have discussed their special requests already, you'll want to confirm them prior so that you can prepare accordingly. You may want to discuss how to handle special requests from their guests as well (e.g., are you okay with guests requesting their own songs?). This will keep the client happy and keep you stress-free.
5. Discuss overtime
Are you willing to provide your service for additional time if the opportunity arises? If so, how much would that additional time cost the client? You'll want to answer these questions before the event and communicate this with your client, including whether overtime will be paid through The Bash or directly to you. If you do provide your service beyond the booked duration and the client pays an additional fee, don't forget to notify The Bash of that change to your total performance rate.
6. Venue details
Another critical step is to confirm the venue details! This includes the exact address, directions, parking, entrance, set up, and verifying whether the venue requests a certificate of insurance or any other licenses or certificates so that you can avoid any issues.
7. Weather changes
For outdoor events, you will want to discuss rain/weather contingencies with the client in advance so you are aligned on a backup plan in case of inclement weather.
8. Attire
Being underdressed for an event can translate to being unprofessional and underprepared. Check with the client ahead of time to see if there is a dress code or theme for the event so that you can plan accordingly and look your best.
9. Food and drink etiquette
You'll want to discuss food and beverage etiquette with the client directly, especially if it is a long event. Sometimes guests may offer you food at the event, but if you haven't confirmed that specifically with the client, it can come across as unprofessional. We recommend clarifying with the client ahead of time whether food and drinks will be available to you, or if you will need to provide your own. This will help avoid any miscommunication.
10. Discuss tip etiquette
Don't forget to discuss if and how you accept tips with the client before the day of the event. This allows them to prepare for a tip at the end of the event if they would like, or you can make sure your tip jar is easily accessible at your set-up (if applicable to your business) after checking with the client that this is allowed. Get our top advice on discussing tipping etiquette with clients.
11. Collect payment
Don't forget to collect the final payment for providing your services! If you are enrolled in The Bash's online payment system, EventPay, your clients can process payments to you at any time through The Bash—just make sure to let them know when and how to make the payment. We are happy to send convenient payment reminders to your client upon your request when you contact our team via email at info@thebash.com.
_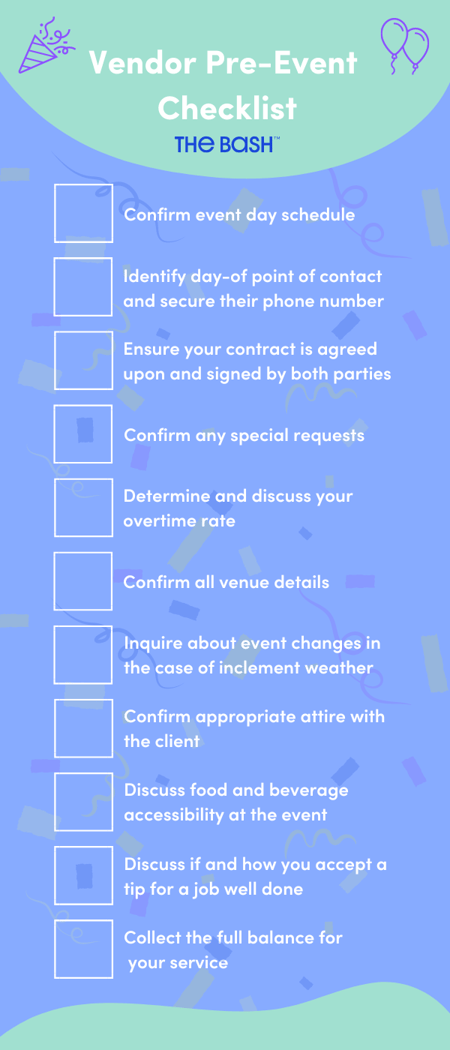 _
YOU MAY ALSO LIKE
EventPay: Our Free and Secure Online Payment System >
How to Discuss Tipping Etiquette With Party Planners >
Lifecycle of a Lead: From Requests to Bookings and Reviews >