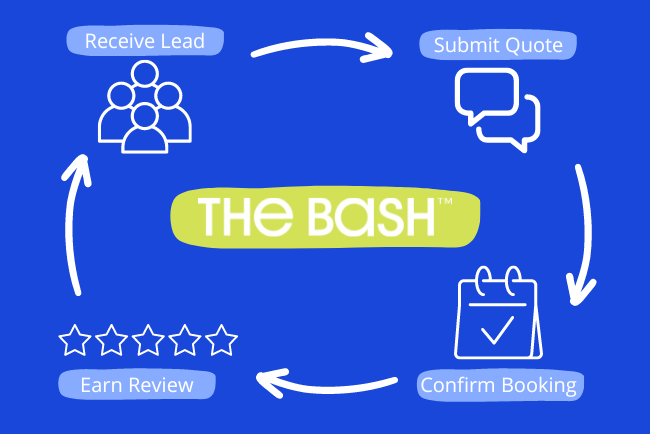 So your account on The Bash is set up, your profile is complete, and you have received your first lead. What happens next? We're sharing the lifecycle of a lead from when you're requested for an event through to getting booked and earning a review from your client.
This article will help you become a pro at all things leads and bookings on The Bash.
The Lifecycle of a Lead From Start to Finish
Let's start at the beginning: Party planners using The Bash can search for vendors in their area and send them a request. Additionally, they can choose to have their request sent to 5-10 similar vendors if they are interested in receiving more quotes for their event. Next, let's get into the lead, booking, review process, and everything in between.
1. Receive Lead
When you receive a lead, you will be notified via email, and a banner alert will also appear at the top of your account. If you'd like, you can also opt into text message lead alerts to receive notifications directly to your mobile phone and respond to leads on the go. New leads will always appear in your Leads Inbox and are sorted by the date they were created (with the default status "Unanswered").
It is important to note that there are 2 types of leads you can receive on The Bash: direct leads and auto-added leads. Direct leads come from clients who have viewed your profile and requested your business specifically. Auto-added leads come from clients who have chosen to have their request sent to additional similar vendors. They are searching for your service type and are within your travel radius, but they may not have viewed your profile. Almost 50% of all bookings on The Bash are from auto-added leads! You can identify the lead type by seeing if there is an auto-add note at the top of the lead page (example below). If there is no auto-add note, it is a direct lead. It is also important to note that there is a time limit of 48 hours to respond to each auto-added lead. If you do not respond within the 48-hour window, the request will be sent to other vendors, and your competition will increase. However, you can still respond to the lead after 48 hours. Learn more about our auto-add system.

2. View Lead
When a lead comes in, you can view the lead directly from your inbox or by clicking the email, text, or banner alert. There, you will see all of the event and client information (aside from the client's contact information). Here's more about viewing leads on The Bash:
You will see lead details like event type, date of the event, venue, city, state, start time, length of service, number of guests, service requested, client first name, preferred method of communication, and any personalized notes included in the request.

You can filter leads by the status of the lead, client name, location, and more to easily find the lead you are looking for.

You can easily see the status of leads: unanswered, quote sent (and when it was sent), pending booking, booked, declined, quote expired, and inactive.

Learn more about managing your leads inbox on our member blog.
3. Submit a Quote or Decline Lead
If you are available and believe you are a good fit for the event requested, you can submit a quote to the client. However, if you are unavailable for the event or if the event is not a good fit, you can decline the lead. We encourage vendors to reply to every lead, whether you submit a quote or decline, as this positively impacts your average response time and response rate. If the client includes a budget that is outside of your starting rate, we recommend replying with your standard rate because the planner may not be aware of the going rate for vendors in the industry. Here's more on submitting a quote and declining a lead:
Submitting a Quote: To submit a quote, enter information like your rate, whether a deposit is required, when it is due, when the full balance is due, a custom note, and more. We strongly encourage requiring a deposit from the client to be due at the time of booking since many clients are willing to put down a deposit to secure the vendor, and it makes them feel that the booking is more official. A deposit also protects you in case of a cancellation (which clients are less likely to do if they have already paid a deposit). You can easily require and collect a deposit via The Bash's online payment system, EventPay, if enrolled (we'll get into this again in a bit). This is a good time to let the client know that a tip is not included in the quote and provide some brief background on how you accept a tip. It's best to communicate this information before the event to give the client time to prepare to provide a tip if they would like to. Learn how we recommend how to discuss tipping etiquette with clients. The status of the lead in your inbox will also be updated to "Quote Sent." Learn more about what to include in your quote on our member blog.

Declining the Lead:

When declining a lead, you can include a custom message thanking the planner for their interest and letting them know you are unable to provide services for their event. However, decline messages are not sent to auto-added leads. If you are declining leads due to a prior booking or another conflicting event, it is a good idea to blackout calendar dates for the days you know you will not be available so that we will not send you future leads on that date. Upon declining the lead, the status of the lead in your inbox will be updated to "Declined" and you can either add it to the "Trash" or another folder if you wish to organize it.

Pro Tip:

Whether submitting a quote or declining, you can utilize saved response templates

to save time when replying to leads.
4. Receive Client Contact Information & Follow Up
Upon submitting a quote, the client's contact information (last name, phone number, and email address) is revealed to you. From here, we recommend following up with the client via email, phone, or text message to learn more about the event, answer any questions, and secure the booking. The Bash's messaging platform is also a great and easy way to communicate with the client, which you can access by clicking the "Message Client" link at the top of the request. When following up, it is important to take time zones into consideration to ensure that you are contacting the client at appropriate times. Vendors are also notified when their quote is viewed by the client, which can be seen under the "quote sent" status when viewing the list of leads in a given folder*. Here are a few tips to consider when following up:
The Bash's messaging platform is recommended so that you have all of your conversation history in one place, especially when following up with auto-added leads. With auto-added leads, the party planner didn't request your service specifically, so a message through The Bash's platform will help convey trust.
Before following up, check to see if the client has selected a preferred contact method.
Consider following up with the client via text or email after submitting a quote and then waiting 24-48 hours to follow up again via phone call.
When you get in touch with the client, be sure to answer any questions they may have and discuss the details of your service and their event further (e.g., if it is a surprise, any special requests, if there's a theme or dress code, event setup, weather backup plans, insurance needs, etc.)
When following up, if the client is not interested or does not have the budget for your services, please be sure to keep communication professional. We will work to send you another lead as soon as possible.
Learn more about best practices for following up with leads, and check out our text message templates for following up with leads.
* Please note that the "Quote Seen" feature requires the client to log into their account and view the quote or have an HTML-capable email program to view the quote. If you are concerned that the client may not have received or viewed your quote, we recommend that you follow up with them directly.
5. Vendor or Client Confirms Booking
If the client would like to book your business for their event, congratulations! It is now time to make it official and confirm the booking. You or your client are able to confirm the booking through The Bash by clicking the "Book Now" button on your respective accounts. Once the booking is confirmed and the booking fee is paid successfully, the lead status will be updated to "Booked." It will also reflect as a verified booking on your profile. Please note that it is not permitted to book planners who find you through The Bash outside of The Bash. If you are not booked for the event, don't stress! Thousands of requests come through The Bash daily, which means you'll get another lead in no time. If you are booked, here are a few notes on confirming bookings:
If a client finds you through The Bash, you are required to confirm the booking through our site and pay the 5% booking fee ($20 minimum). Not only is this part of our user agreement, but it also benefits you. The more you book on The Bash, the more booking dollars you'll earn, the higher you'll rank in search results, the more reviews you'll earn, and the more business you'll receive in the future.
You can view all of the booking dollars that you have earned through The Bash on the "Booking Dollars" page within your "Tools" tab.
Vendors and clients can contact our team at info@thebash.com anytime for assistance with confirming a booking or making changes to a booking.
Familiarize yourself with our Event Protection Policy and our Booking Guarantee.
6. Client Makes Required Payment(s)
Back to our free and secure online payment system, EventPay. Clients can process required payments to you through their account as long as you are enrolled in EventPay. If you are enrolled in EventPay and require a deposit to be due at the time of booking, the booking fee (5% or a minimum of $20) will be deducted from the deposit amount as opposed to being charged separately to your payment method on file. While we recommend being enrolled in EventPay since most planners prefer the option to easily pay online, you can also collect payments from clients directly. Here are some details on how clients make payments:
Vendors determine when the balance is due from the client, whether a deposit is required, and when they would like to be paid by the client.
If a deposit is due at booking, we will automatically collect the deposit for you. However, clients will not be automatically billed on The Bash for other payments. You are responsible for collecting payment from clients, but we are happy to send a payment link to your clients at your request.
Clients are able to log in to their account to make payments anytime if you are enrolled in EventPay.
Learn more about EventPay and the payment process.
7. Generate a Contract (Optional)
Once booked, you can utilize The Bash to generate a contract or use your own to share with your client. We highly recommend the use of contracts to help protect you and the client, especially in the case of cancellations or unexpected developments.
8. Booking Changes
If there is a change to the event after confirming the booking, please contact The Bash Team at info@thebash.com to complete the change. We confirm the change with both parties before it is reflected on the booking. Changes can be made to the date, time, rate, location, and more. Learn about our event cancellation policy.
9. Getting Paid
As long as you are enrolled in EventPay, planners will have the opportunity to process payments to you through The Bash. We highly recommend being opted into accepting both deposit and balance payments. You can opt to have client payments go directly into your bank account (checking account) or a debit card. Payments are deposited to you in as fast as 2 business days. Please note that we do not automatically send out payment requests for deposit or balance payments (unless the deposit is listed as due at the time of booking); however, our team is always happy to support you and can send a payment reminder with a link to process payment to the client at your request. Learn how we recommend how to discuss tipping etiquette with clients.
10. Collect Review
One day after the event, the client will automatically receive an email prompting them to leave you a review. They will receive another email alert 14 days after the event date if they have not yet posted a review. Vendors will also have the opportunity to send a review reminder email within their Member Control Panel 7 days after the event. When you receive a review, you will be notified via email and it will be posted to your profile page. From there, you can reorder and respond to your reviews! Learn more about receiving and requesting reviews.
_

_
Our member blog is the best resource for more details and articles on the lead management and booking process. Plus, you can always contact our Account Services team with questions or for assistance at info@thebash.com.
_
YOU MAY ALSO LIKE
How to Choose the Best Categories for Your Business >
4 Things Your Quote Might Be Missing >