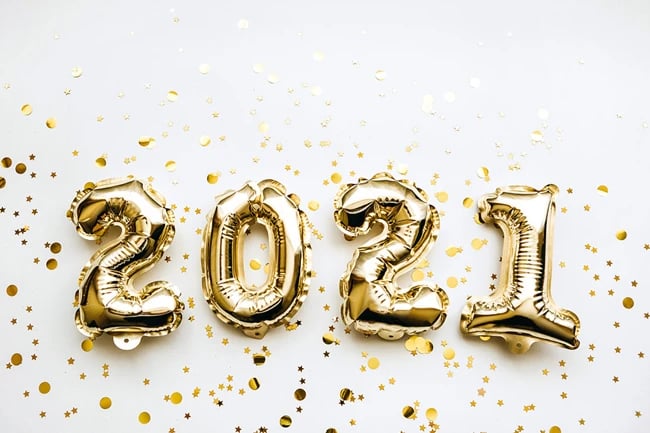 In 2020, many events were rescheduled, postponed, changed to a virtual or contactless format, or cancelled. While it was certainly a challenging year for many, through all of this we saw vendors quickly adapt to the new event landscape, accommodating virtual parties, implementing new safety protocols, and continuously being flexible with their clients' events. Heading into 2021, we know vendors will continue to be resilient and innovative as safe celebrations increase.
Read on for 10 things you can do to restart and refresh your business in the new year.
10 Things to Do to Set Your Business up for a Successful 2021
The new year is always a great time for resolutions and setting new goals, both professionally and personally. With the news of a vaccine, we're confident that safe parties will continue to increase nationwide. With that being said, now is certainly the time to work on your business and get ahead of the surge parties that are likely to be coming our way this year.
Below are some key areas to think about for your business as we kick off 2021.
1. Reevaluate Your Pricing
The new year is the perfect opportunity to revisit your pricing. For example, if you've become more experienced over the past year (maybe you've taken classes to improve your skills or have invested in your virtual performance), consider increasing your pricing. Or, maybe the cost of business has increased for you. Either way, it could be a good time to give yourself a raise! If you find you're typically charging more than your competition, make sure you're explaining your value and experience to potential clients when speaking with them so they understand all the talent and expertise you can bring to their event.
2. Update Your Marketing Collateral
Whether it's your website, Google Business listing, social media presence, PDF of your pricing and packages, or your business cards, it's a great time to take a look at all of your collateral and see what needs to be refreshed. If there have been any updates to your business or services over the past year (pricing, awards, new offerings, updated packages, etc.) make sure it's reflected across your marketing collateral.
3. Focus on Your Reviews
It's always important to make the most out of your reviews from past clients. If there were any clients that didn't leave you review for 2020 events, reach out to them and send them a friendly reminder to do so. Also, if there are any recent reviews that you received and haven't responded to yet, we recommend taking some time to do that. Responding not only gives you the ability to showcase your personality a little more, it also will show that you value your clients and their feedback.
Helpful Resource: Everything You Need to Know About Reviews on The Bash
4. Take a Fresh Look at Your Profile on The Bash
No matter how you are advertising your business right now, it's important that you're showing off your best self to potential clients. Take a look at your profile on Th Bash (or other online sites) and consider refreshing the following:
Photos & Videos: Take a look through your profile photos and videos. Remove any old or low resolution media and freshen it up with more recent, high quality pictures and videos.
Profile Bio: Reread your profile description and make sure it's accurate, professional, and that it will stand out to potential clients when they see it! Add any new details about your business from the past year

—awards you've received, new virtual services, notable past events/clients, etc.

Pricing: If you've updated your business's pricing, make sure your profile on The Bash reflects that as well. Party planners want to see transparent and accurate pricing!
Reviews: Take a read through all of your reviews on your profile. On The Bash, you can display these in any order you'd like, so make sure you move your best and more recent reviews to the top!
Helpful Resource: 6 Ways to Update Your Profile Right Now
5. Improve Your Skills as a Performer
When we surveyed vendors late last year, a majority of them reported that they were focusing on upgrading equipment, learning new systems, and taking classes to improve their skills. Whether it's learning new songs, picking up a new instrument, or perfecting your virtual performance, now is a great time to improve your skills as a performer.
6. Refresh Your Email Templates
Take a look at all the different emails that you send to potential clients—your first email response to a booking request, follow-up emails, thank you emails, your automated email response (if you have one), etc. Spend some time refreshing those emails with any new details about your business, especially if anything has changed over the past year. Also, don't be afraid to test different versions of your first lead response email, for example, to see which one works best in getting you booked!
Helpful Resource: Best Practices for Responding to Your Leads
7. Get Your Business in Order
In our recent COVID-19 survey, we asked vendors what they were doing to work on their business. One of the top 3 responses we saw from vendors was that they were focused on getting their business and finances in order. Think about what this can mean for your business (i.e., cleaning up and organizing your lead inbox, updating your calendar, refreshing contracts, etc.).
8. Follow and Implement New Safety Protocols
As a result of the pandemic, many vendors (and businesses in general) have had to quickly adapt to new safety protocols and implement changes to their business in order to keep themselves and clients safe. In 2020 we saw vendors add plexi-glass around their setups, wear proper PPE, implement social distancing rules, practice safety and sanitization, and much more.
In 2021, we expect the safety of vendors and guests to remain a top priority as safe celebrations happen. It's important to make sure you're implementing safety protocols and following guidelines from the Center for Disease Control (CDC) and World Health Organization (WHO). Think about what new safety requirements protocols that you might need to implement to keep yourself and other safe at future celebrations this year.


"COVID-19 has required me to design stage shows with social distancing which opened up a whole new way of looking at hypnosis shows. They are successful and VERY funny while still maintaining the highest standard of safety."
"We are practicing safety, distance, and continuous sanitizing. Our baristas have their temperature taken upon arrival. They are wearing masks and face shields. We have also added a shield guard on our coffee cart to protect the barista from the guest and vice-versa. We have hand sanitizer for both the barista and the guests."
9. Connect With Other Vendors in the Industry
In 2020, we saw many vendors come together to share how they were navigating events and their business throughout COVID-19, including how they were conducting virtual events, how they were handling rescheduling events, and more. In 2021, we expect this trend of community to continue and urge vendors to join new online groups/communities and reach out to colleagues for tips/advice. Everyone has similar challenges and questions, especially when it comes to navigating events during a pandemic, so it's important to lean on others in the industry.
10. Create S.M.A.R.T. Goals for Your Business
If you haven't already, think about what your 2021 goals are. These can goals for your business (e.g., book more virtual corporate events), your brand (e.g., update your website with more testimonials), your finances (e.g., increase booking revenue by X%), or just overall personal goals (e.g., start a podcast). Whatever they are, write them down, determine what you need to do to meet each goal, and revisit your progress every month to help keep you accountable.
_
Keeping with the positive vibes, we'd love to hear about one of your big wins from 2020 or something you're looking forward to in 2021. Please comment below!