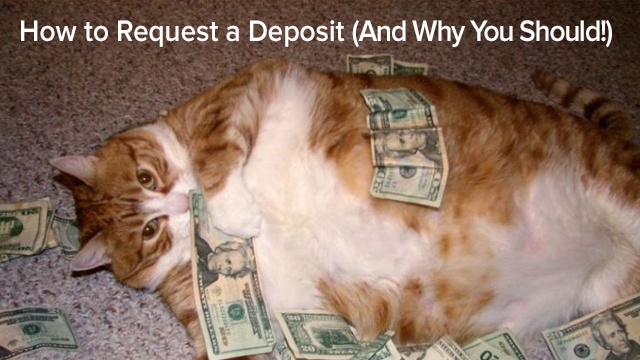 Everyone has their own way of working with new clients and quoting on gigs. That's why GigMasters allows vendors to customize quotes and request deposits as an optional feature. We all know that deposits benefit the vendor, however, some are concerned that asking for money up front could scare away clients. Don't be scared!
The consensus, based on member feedback, is that deposits are highly recommended. Most clients are willing to put money down to secure the date and know that the booking is official. After all, their private event is a very important moment in their life.
And of course, deposits protect the vendor (you) in the case of a cancellation. Let's hope that doesn't happen, but if it does it's better to have something to walk away with.
Guitarist David Payton chimed in on a post related to this topic on our Inside the Gig Facebook group. He said, "I get a non-refundable deposit (at least $150)...and out of 184 bookings I have had maybe 2 of them cancel. If they do, I keep the deposit."
How It's Done
First, you need a gig lead. All deposits can be requested when you submit your quotes. When you get a gig alert, start filling out the Rates & Deposits section and you'll see the "Request Deposit" option. Click that box and enter your amount, for example: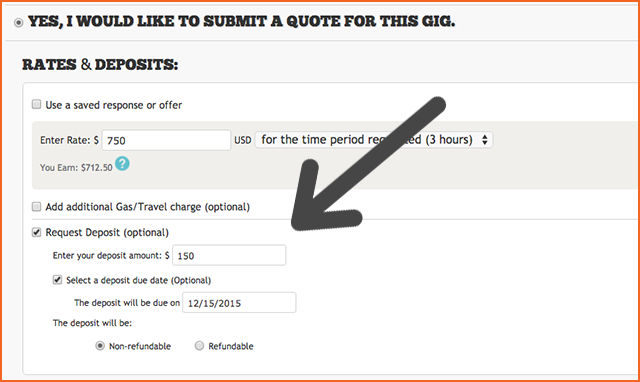 The amount is up to you and it really depends on your event rate. We generally see 10-50% as the going rate, and round numbers like $100 and $500 are very common. Payment due dates are optional too -- this really depends how busy you are. If your schedule is open and the event date is far away, you may want to give the client more time to decide. You can always resumbit your quote in the future if another gig opportunity comes up.
Time saver: If you haven't aleady, we also recommend that you setup a saved quotes to reply faster. Go to your Leads tab, and click edit next to "Saved Responses."
To review your recent leads and quotes, log in to your member control panel:
UPDATE - NEW DEPOSIT FEATURE ADDED AUGUST 2016: