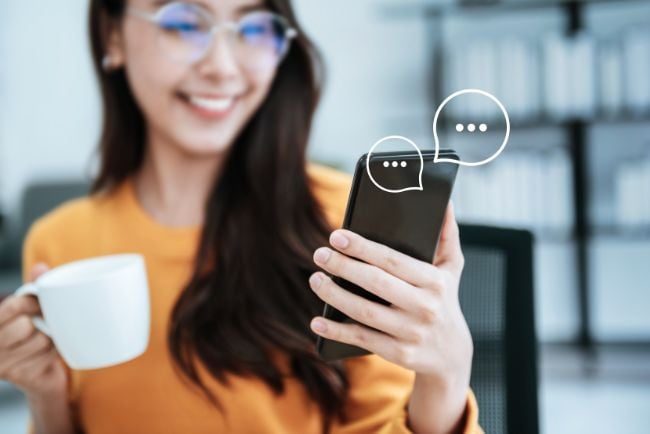 AI (Artificial Intelligence) has been all over the news, especially with the increased popularity of ChatGPT. There are countless uses for ChatGPT that you may have heard about, but have you thought about how you can utilize it for your business? We're sharing a few ways you can use ChatGPT to help optimize your profile description, lead responses, and replies to reviews.
ChatGPT is an online chatbot that utilizes artificial intelligence to answer various prompts submitted by users. ChatGPT can answer questions, provide information on topics of interest, and perform simple tasks like reordering a list—all within seconds. The best part is that it's free to create an account and use it! While there are endless purposes for using ChatGPT, we're sharing prompts that can help you enhance your profile description, respond quicker to requests, follow up with leads faster, and respond to reviews.
ChatGPT Prompts to Help You Optimize Your Account and Respond Faster to Leads
The following prompts are starting templates you can customize based on your business. Feel free to adjust the prompts to include more information on your service, the event type, the party planner's requests, and any additional information you think would be helpful.
1. Enhance Your Profile Description
Party planners rely on your profile description to learn about your business, and it's one of the first aspects of your profile they notice. Not only does it educate party planners on your offerings, but it also creates trust and makes them excited about the prospect of booking your business. ChatGPT can help you write an enticing profile in a professional or casual voice. Please be sure to include enough information so that it can provide a valuable and accurate description.
Consider including the type of service(s) you offer, your category, years in business, location, type of events you provide your service for, SEO keywords, and other important and relevant details about your business. Our top 100 bookers on The Bash have an average of 1,975 characters in their profile description, so you may want to use this as a guideline. Here is an example prompt to get started:
"Write me a professional and upbeat business description for my band that is approximately 1,975 characters and includes this information: My rock band called Rocky has been performing in the New York tri-state area for 25 years. We play classic rock, today's rock, and more. Hire us as a 3-person band or 6-person band for your wedding, birthday party, retirement party, and more."



If you have a current description for your business that you'd like to refresh or change the voice of (e.g., more professional, casual, upbeat, etc.), consider using a prompt like this:
"Update the business description for my rock band to be more fun and upbeat: [Paste your current description]."
New Feature! You can now utilize AI to enhance your profile description within your account on The Bash! (We strongly encourage adding a profile description before using this feature). Click the link above your current description field that says "Use AI to Enhance Your Profile." After agreeing to the terms and conditions, choose from three different tones of voice to apply to your existing description and select your favorite one to replace your original description. From there, make edits to enhance your AI written description even more!
2. Respond Quickly to Requests
Whether an event request does or does not fit your business and availability, we recommend responding to every request you receive. Letting a planner know you cannot provide your service for their event will allow them to move forward in their search process. If you are available, you will want to respond immediately with a professional and detailed response. Either way, ChatGPT can quickly provide you with a response.
Here are two prompts you can use to get assistance from ChatGPT when it comes to responding to requests:
Decline: "As a [vendor type], give me a response to a party planner request for a [event type] on [date] in [location] that I am not available for."
The top 100 bookers on The Bash have an average of 500-1,000 characters in their quotes. With that in mind, here is a prompt to quickly write up a quote:
Submitting a quote: "As a [vendor type], write a quote to provide my service at a [event type] on [date] in location] for [rate] for [time length]. Please make it 500-1,000 characters."
Pro tip: Adding your decline message and quote as saved response templates on The Bash will allow you to easily find and use these messages the next time you're replying to a lead. You can always edit your saved responses anytime with updated suggestions from ChatGPT.
3. Follow Up With Leads Faster
Following up with leads can be the difference between securing an event and not. We highly encourage vendors to follow up with planners after they submit a quote through The Bash (upon submitting a quote, we'll reveal the client's contact information to you). Here is a ChatGPT prompt to get you started:
"Write a short follow-up text message to a lead that is planning a [event type] on [date] and is interested in hiring my [vendor type/service] for their event. I just submitted a quote to them, but want them to have my phone number in case they have any questions."
It's also important to prioritize following up with a lead again a few days after submitting a quote or if a lull in conversation occurs to keep your business top-of-mind. Try this prompt on ChatGPT to quickly craft a follow-up message:
"Write a follow-up email including a subject line to a lead that is planning an [event type] on [date]. I want to know if they are still interested in hiring me as a [vendor type/service] for their celebration in [location]."
4. Replying to Reviews
Replying to positive reviews on your profile lets clients know you appreciate their kind words and also gives future clients a glimpse into your personality and professionalism. Replying to negative reviews gives you the opportunity to work out any issues or concerns from a client and shows potential clients that you're taking the necessary steps to ensure it doesn't happen again. The sooner you acknowledge a positive review or address a negative one, the better. You can easily copy and paste the specific review into ChatGPT to ensure you create the perfect response and stay within The Bash's 675-character limit. Here are prompts for asking ChatGPT to help you in replying:
Positive review: "Give me a response to reply to this positive review about my business: ..."





Negative review: "Give me a response to reply to this negative review about my business: ..."
_
ChatGPT is a valuable, free tool to help you get creative, brainstorm, spruce up your profile, and save time when responding to planners. While helpful, remember that personalization should take priority, and you never want to sound like a chatbot when responding to leads or refreshing your profile. We hope you found this article helpful, and as always, please contact our team if you have any questions or need any assistance with your account on The Bash.
_
YOU MAY ALSO LIKE
How to Choose the Best Categories for Your Business >
4 Things Your Quote Might Be Missing >