We're excited to announce a new feature that will help you secure more bookings. You can now require clients to pay a deposit at the time of booking!
Before today you were able to request a deposit, however, it was never a requirement to confirm the booking. We made this change based on direct feedback from members of The Bash (formerly GigMasters) about the quote process. Many have requested that we add this feature...so we did! You asked, we listened.
This feature is available to US members only, whom are enrolled in Online Payments. Here's a screenshot of what the deposit option looks like when you quote: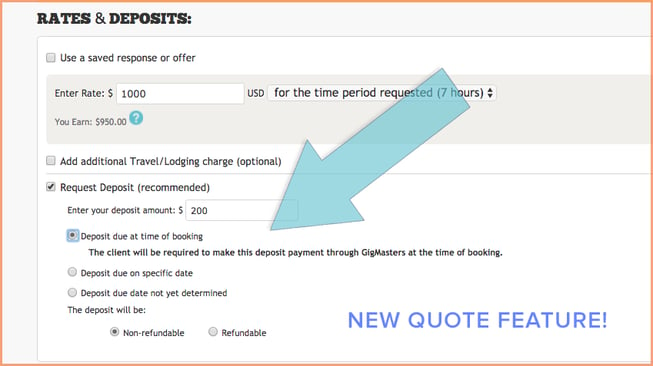 What's changed?
Members enrolled in Online Payments now have the option to request a deposit due at the time of booking. You may still set deposits as refundable / non-refundable. Options now include due at time of booking, on a specific date, or date not yet determined. If a member confirms a booking where a deposit was set to be due at the time of booking, the member forgoes the deposit due at booking requirement.
Do I need to take any action now?
If you are enrolled in Online Payments, you don't need to do anything now. Simply select this option the next time you quote on a gig lead (if you'd like). If you do not have a bank account on file with The Bash, you will need to add one to take advantage of this new deposit feature. Go to your Member Control Panel here: Enable Online Payments
Should I update the Leads App?
Yes. If you use Leads by GigMasters, you will need to update the app to access this new feature. Visit you app store on your mobile device and locate the Leads by GigMasters app (or update on iOS here / Android here).