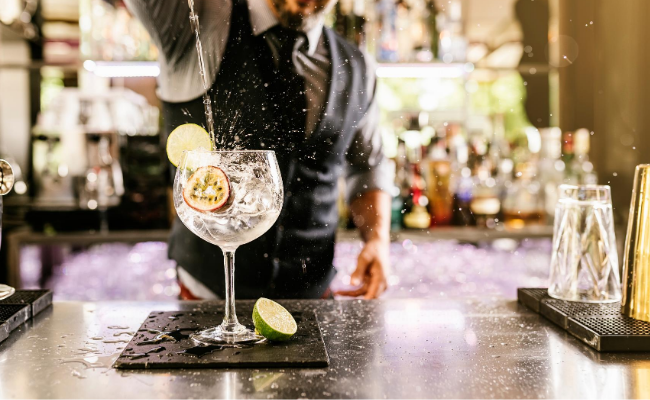 Contactless gatherings, social distancing events, and virtual parties have certainly increased in popularity since the start of the COVID-19 pandemic. But what does this look like exactly for vendors like bartenders and caterers? While we certainly don't have all of the answers, we are continually learning and highlighting what vendors are doing right now to adapt to events.
Here you'll find some ideas and ways for bartenders and caterers to safely provide services right now.
Prep For Your Upcoming Event
The health and safety of vendors and guests remain a priority as events start to take place again. Before an event, there are some small preventative measures that we are seeing vendors take. See the highlights below:
Regulations are changing constantly and vary greatly by location. Make sure to double check your local and federal government regulations that apply at the time of the event, as well as the Center for Disease Control (CDC) and World Health Organization (WHO).

If you typically meet in person with the party host, try to make those meetings virtual through a phone call, Zoom meeting, or FaceTime call.

Clearly communicate your safety protocol and requirements to the party host before the event date.

Ask the party host for their safety plan for the event so your staff understands what safety measures guests will be required to take.

Ensure your staff is fully trained and understands the safety measures they will need to take on the day of the event to keep themselves and guests safe.
Pro Tip: For more tips on how to handle events during COVID-19, be sure to check out our COVID-19 Event Checklist for Vendors and Party Hosts.
Ideas on How to Incorporate Safety
We have heard from a few bartenders and caterers on how they are ensuring safety and comfort during events. Here are a few ideas:
Install a plexiglass shield covering the bar area or catering station with a small opening to pass drinks/food through to make staff and guests feel more comfortable throughout the event.

Add signage near your bar or catering station that clearly shows any rules for guests when approaching your staff/station (i.e., must wear a maks, must stand 6 feet away, etc.).

Put out sanitizer at stations for both guests and staff to use! Guests will greatly appreciate this added safety gesture.

Provide a display of drinks/food at different stations or tables to cut down on the guest traffic in one area.
See below for more ideas from our experienced members, Crème de la Crème and The Mobile Barista.
"The main thing is to ensure everyone feels safe during an event with Crème de la Crème. We spend extra time sanitizing each item that goes to an event and also when it returns back to our warehouse. All of our staff must wear masks and gloves, and we have redesigned our serving techniques to be as contactless as possible. We've also designed drink stations where we set up beautiful drink displays and replenish as the guests pick up individual pre-poured drinks."
"The Mobile Barista recently serviced a social distancing event and all went smoothly. Our baristas followed our new protocol, as well as those followed by the venue. This event made certain that everyone felt safe. Those wearing a mask and wanting to stay 6 feet apart had to wear a red bracelet. Guests who didn't want to wear a mask, but wanted to converse with one another, by maintaining 6 feet wore a yellow bracelet. Those guests who did not want a mask, and did not mind conversing within 6 feet wore a green bracelet."
"We are practicing safety, distance, and continuous sanitizing. Our baristas have their temperature taken upon arrival. They are wearing masks and face shields. We have also added a shield guard on our coffee cart to protect the barista from the guest and vice-versa. We have hand sanitizer for both the barista and the guests."
"We have started to offer individually portioned and packaged appetizers, entrees, and desserts for events, when it seems like an appropriate option. We are offering more passed hors d'oeuvres and finger foods vs. setting up platters of food on buffet tables. We are also doing more outdoor and 'rolling' events: guests arrive at different times during a 4 hour time period, so there are no more than 15 guests at any given time. This means we have to keep replenishing and rotating our service, but everyone feels safe and comfortable which is very important to us!"
Innovative Ways to Offer Virtual Services
Virtual events have increased in popularity since COVID-19 started as a way to continue celebrating special occasions safely. We've seen bartenders offer virtual cocktail classes, teaching guests how to make craft cocktails at the comfort of their home. We've even heard from some who are offering to go shopping for the ingredients and do a contact-free drop off to the party host! This idea could easily work for caterers and virtual cooking classes as well.
It all comes down to thinking outside of the box and exploring innovative (and safe) ways that you can offer services right now. See some of our favorite ideas for virtual parties below:
A group cocktail party: Teaching guests how to make craft cocktails if you're a bartender or a delicious meal if you're a caterer is a great option for any celebration! You can share an ingredient list prior to the event to ensure everyone is prepared.

One-on-one session: Offering a one-one session with a party guest who is looking to make the perfect cocktail or appetizer for their upcoming gathering is another fun idea!

Happy hour package: Many companies are looking for ways to connect with their coworkers virtually right now, as many people are still working from home. Hosting a happy hour where you can walk through how to make a delicious cocktail or appetizer can be a great team building idea and way to package your services.
See below for what Barspirit, one of our top booked bartenders, is doing to service virtual events!
"We are currently hosting virtual bartending events. Depending on where our clients are located (we have locations in LA, Las Vegas, New York, and Boston), we can even do the shopping for them, contact-free, of course! In that case, we will drop everything needed for the course in front of their doorstep the day before, and they only have to "show up" and have fun!"
-
This post is for general informational purposes and does not intend to provide legal or financial advice. Government guidance and restrictions for events and businesses during the COVID-19 pandemic vary by location. Before implementing any safety measures for your business, we recommend consulting the government guidance in your area, or your legal or business advisors.
Do you have any tips or advice for safely servicing contactless events? Comment below!