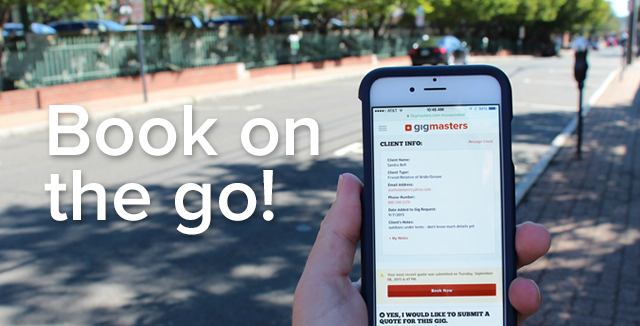 Hey members!
It's always been easy to communicate and send quotes to clients, however, confirming bookings on-the-go has been a little tricky. Until now! When you access your Control Panel on The Bash (formerly GigMasters) site from your phone (or other mobile device) you can now quickly confirm a booking. Here's how:
Make sure you've officially confirmed the gig with your client.
Go to TheBash.com on your mobile device and log in on the upper left.
Select your membership, then locate the gig that you've been hired for.
It must be an active gig request that you've already sent a Yes quote for.
Scroll down and click the orange "Book Now" button.
That's it! You can still find the "Book Now" in your Leads folders as well. If you want to check out this new feature, log in here from your mobile device:
Note: Only confirm bookings that you've sealed the deal with your client first :)