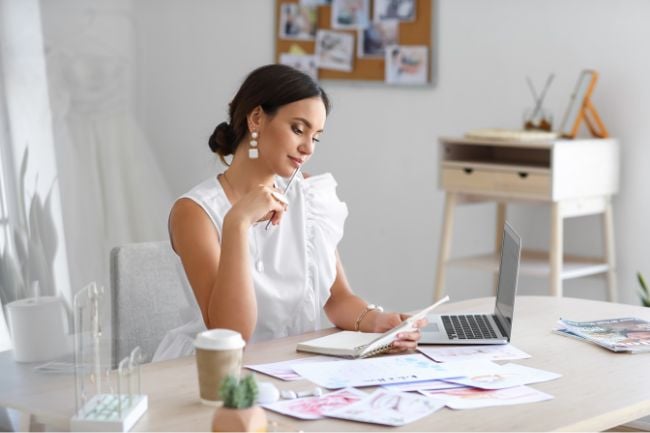 As a vendor, have you ever wondered what the party planner experience looks like on The Bash? We're sharing all the details about their journey on The Bash, from getting party inspiration to browsing and booking a vendor and leaving a review.
A Party Planner's Journey on The Bash.
It all starts with finding The Bash. Since 1997, our mission has been to get our vendors booked, so we've become experts in all things SEO to help get vendors like you to the top of search engine results. Our expertise, years in business, and affiliation with our sister-brand, The Knot, helps to build trust with party planners who are finding us at the very start of their planning journey. Keep reading to find out what's next in the party planner journey!
1. Party Inspiration
Party planners who are ready to browse and book a vendor typically find The Bash and our vendors through a simple Google search like "Book a jazz band in Boston" and are brought to a search results page like this. However, party planners who are still in the inspiration and planning phase may come to one of our thousands of party planning articles first. These articles provide planners with party theme ideas, event guides, checklists, party trends, and general party planning tips and advice. Our goal is to provide all the resources party planners need to create a vision for their event and help them move along to the next stage in their party planning journey: finding the best vendors for their celebration!
2. Vendor Search
To help bring their celebration to life, party planners search The Bash to find vendors in their location. Planners are able to browse through vendors and review vendor descriptions, photos, videos, reviews, pricing, and more before making a decision on who would be a good fit for their event. On average, party planners using The Bash request a vendor 60-90 days before their event date to allow adequate time to learn more about what they want in a vendor and finalize any outstanding decisions.
3. Submitting an Event Request
If a party planner is interested in booking your business, they can directly request you by clicking the 'Request Free Quote' button on your profile and completing the details about their event, including the date and time, event type, location, number of guests, and more. Party planners will also have the option to select if they would like to receive additional quotes from similar vendors (up to 10)—this is what we refer to as our auto-add system. Remember, an auto-add lead will include copy at the top of the lead details page indicating it is an auto-add lead. If the planner directly requested you and only you, you will not see that copy.
After the planner submits their request, they will receive a confirmation email with all their request details. Once you submit a quote as a vendor, the planner will receive another email with your quote details. From here, the communication is in your hands. You and the planner can message via The Bash's platform, or you can utilize the planner's contact information that you receive after submitting a quote to follow up with them directly and secure the booking.
4. Booking a Vendor Through The Bash
Once a party planner is ready to book your business, they can do so directly through their account on The Bash by clicking the 'Book Now' button. If they are having trouble, you can also book the event once they have confirmed that they would like to book you.
If you are enrolled in our free online payment system, EventPay, and have indicated that a deposit is due at the time of booking, your client will be prompted to pay that through The Bash upon booking. Please note that your clients will not be automatically billed on The Bash for other payments. You are responsible for collecting payment from clients, but we are happy to send a payment link to your clients at your request.
Once the event has been booked, your client will receive a confirmation email with the event and payment details. From here, you and the client should communicate directly leading up to the event. You can refer to our vendor pre-event checklist for a list of details we recommend following up on with your client before the big day. If any details need to be changed after your event is booked, our Account Services Team is happy to help make sure all details are up to date.
5. Leaving a Review
One day after the event, your client will automatically receive an email encouraging them to leave a review on your profile. They will receive another review reminder email 14 days later if they still haven't submitted a review. You can also trigger a 'review reminder' email to the client within your Member Control Panel if the client has not posted a review 7 days after the event. Once a client leaves you a review, it is automatically displayed on your profile!
_
YOU MAY ALSO LIKE
Lifecycle of a Lead: From Requests to Bookings and Reviews >
4 Things Your Quote Might Be Missing >