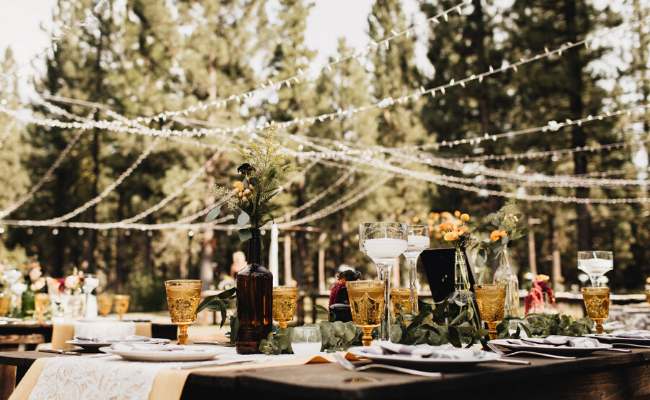 While events and public gatherings still have safety regulations and restrictions, the good news is that party hosts and planners are starting to safely celebrate again. Whether it's a virtual party or social distancing event, we're sharing some tips to help you navigate your summer bookings and upcoming requests.
Tips for Handling Your Summer Events
Social Distancing Parties
With states slowly reopening and some starting to allow small gatherings again, party hosts are able to plan some of the normal events and celebrations, while social distancing and adhering to safety regulations of course.
Here are some tips for social distancing parties this summer:
Adhere to Local and Federal Government Regulations
The health and safety of party hosts, guests, and vendors should remain a priority. We recommend that you continue to stay up-to-date on the recommendations and regulations from local and federal governments, as well the Center for Disease Control (CDC) and World Health Organization (WHO). Every state is different and regulations are changing quickly.

Take Appropriate Safety Precautions
It's important to ensure everyone maintains the proper distance (6 feet or more!) and feels comfortable during the event, including yourself! Based on the state's regulations and safety standards, you may be required to wear a mask in addition to taking other safety measures like wearing gloves or taking sanitizing precautions, depending on the circumstances. Again, please refer to the CDC for a full list of safety precautions for events and gatherings.

Proactively and Clearly Communicate
Make sure to reach out to and communicate with planners who have booked you for upcoming events. It's important to be on the same page regarding safety precautions that you and the guests will be taking at the event so that everyone can celebrate safely and stress-free.

Do What Makes You Comfortable
While we strongly encourage vendors and party planners to adhere to safety guidelines, if you do not feel comfortable or safe performing at an event at anytime, you shouldn't. If the event can be done virtually (and the party host is on board), consider opting for that. If that's not an option, we recommend speaking with the planner directly about postponing or rescheduling to a time that everyone is comfortable with.
Additional resources:
5 Major Safety Considerations Wedding Pros Are Addressing Right Now
Virtual Events
If you have upcoming in-person summer events already booked that you or the planner doesn't feel comfortable with due to COVID-19, consider taking it virtual! Now, virtual events don't work for every type of vendor or celebration, but it is an option for many. In fact, over 5,000 vendors on The Bash are now promoting their virtual service!
Here are some tips for virtual events:
Be Clear with Expectations
Clearly communicate with the planner and share what they can expect from your virtual performance. This includes going over details like timing, the virtual platform you'll be using, reviewing details like a theme to make sure you dress for the occasion, setting up a technical check prior to their event, and more!

Perfect Your Setup and Practice Your Virtual Performance
Making sure you have high-quality audio, good lighting, a professional background, and a fast internet connection are all key to a successful virtual event. And remember, the only way to perfect it, is to practice.

Promote Your Virtual Offering
With The Bash's virtual events feature, you can now easily showcase your virtual offering on your profile. We also recommend promoting your virtual services on your personal website (if you have one) and across social media.

Consider Adjusting Your Price Point
Vendors on The Bash seem to be charging less for virtual events vs. traditional in-person events, which can be expected. When considering pricing for your virtual performance, take into account everything that typically goes into your quote and what might not make sense for a virtual performance (travel, setup costs, etc.).
For more on virtual events, check out:
5 Tips for Your Virtual Performance

New Feature: Opt in to Virtual Events on The Bash
Your Top Questions Surrounding COVID-19, Answered!
Video: Virtual Event Tips from DJ Ben
Video: Virtual Event Tips from Mike Slater
Member Spotlight: Violinist Rachael Miller
Member Spotlight: Classical Guitarist Rich Barry
Caricaturists Timothy & Andreea Baker on Virtual Events!
5 Examples of Real Virtual Parties Happening Now
-
For any additional questions, please contact us at (866) 342-9794. We're always here to help!