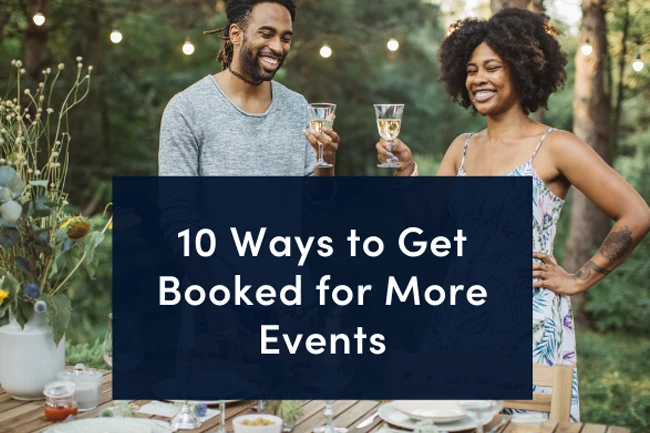 The goal for any entertainer or party professional is to get booked for more events. There are several things that you can do as a vendor on The Bash to drive more leads and bookings and we're highlighting 10 of them in this blog.
10 Ways to Get Booked for More Events
1. Build a professional profile and keep it current.
Fully completing your profile on The Bash with photos, videos, and a bio significantly increases your chances of clients reaching out to you for a quote.
Add more high quality photos & videos
Put yourself in the client's shoes - would you be more likely to reach out to a vendor that only has a few photos or a vendor that has 100 photos plus a few videos? The most important thing you can do to drive more leads is to ensure you high quality, current, and professional photos and videos on your profile. Featuring shots of past clients or you in action at an event helps potential clients envision what it would be like to book you. And don't forget to choose your best photo as your profile picture - it shows up in search results and is one of the first things they'll see.
Craft a captivating bio
Don't forget about your bio - clients want to read about your story and what makes you, you! This is where you can tell potential clients about your experience, any notable events you've worked or awards you've received, and even feature past client testimonials. The beginning of your bio also shows up in search results so be sure to start it off strong.
2. Choose the best

categories for your business.
Your category selections on The Bash determine how clients will find you on the site and directly affect the type of leads you receive. Selecting a popular primary category is recommended (e.g., cover bands is one of the most popular primary categories for Live Bands). If you're not sure which category to choose, give our team a call and they can help you determine the best selections for your category and location.
3. Leverage your profile.
Your profile on The Bash is chock full promotional goodies (photos, videos, awards & badges, client reviews, your total number of bookings, you name it!) - make sure you're utilizing it. Add your The Bash profile link to your social media pages, personal website, Google My Business, and any other places where you are promoting your company. Your profile allows clients to view everything about your business in one place, enables them to request a quote and book with you, and makes it easy for them to pay online if you're enrolled in EventPay, so make it easy for them to find it.
4. Respond to every lead.
We recommend responding to every lead that you receive, even if you're unavailable for their event date or the client has provided a budget that is below what you normally charge. Here's why...
When you're unavailable for the client's event date
Not available for a client's event? Let them know. Just simply decline the booking request through The Bash so the client can continue their search. It only takes a few seconds to decline - just select "No, I do not wish to submit a quote for this booking" and choose from the drop down of decline reasons. Plus, not responding at all affects your average response time!
When the client's budget is below what you typically charge
Clients are typically not aware of how much it costs to hire a service like yours. Just because they put in a budget doesn't mean they won't spend more than that. By not responding at all, you have no chance of getting booked for the event. By responding, you can at least educate the client on how much your service typically costs and why - let them know what's included in that price, how long you've been in business, direct them to past client reviews and testimonials, and explain why you would be a good fit for their event.
5. Always respond quickly.
By now, you should know that if you're not responding to a client's request in a timely manner, it's likely another vendor will get the booking instead. The average response time of vendors on The Bash is 9 hours, while our top bookers respond within just 6! The faster you respond, the more likely it is that you'll get booked.
How to improve your response time
Consider setting up a few saved responses to help you more quickly respond to booking requests as they come in to your leads inbox. Also, we highly recommend opting in to receive text message alerts so that you are notified as soon as a booking request or client message comes in.
6. Perfect your quote response.
Just as important as responding quickly, is your actual response to the client. Responses that are impersonal, sound like a mass response, and use incomplete sentences will likely not get you booked.
How to respond like a pro
There are a few simple things you can do to improve your response:
Make it personal. Address the client by their first name and speak to their specific event and requests.

Make it upbeat and celebratory. Congratulate them on their event (if applicable) and show that you are excited about the possibility of being a part of their special day.

Be professional. Make sure your response is detailed, uses complete sentences, and is free of spelling and grammatical errors. You want to show that you're a professional from start to finish!

Share your background and experience. If you have any notable events you've worked in the past or awards worth highlighting, make sure to mention them. You want to convey why you'd be a great fit for their event.

Set up next steps. Encourage the client to call you with any questions they have about your quote and/or try to set up a time to meet and speak with them in person or via a video chat.
For more tips and tricks, check out these best practices for responding to your leads and this complete checklist of how to respond like a pro.
7. Keep your pricing competitive.
Having the lowest bid doesn't always mean the client will book with you. We recommend charging what you believe you are worth and not trying to low ball the client in an attempt to get booked. Put yourself in the client's shoes again - if you received 4 quotes that were in the $800-$1,000 range and then one that was $500, wouldn't you be a little suspicious as to why that vendor is charging so much less than the others?
If the client does have a lower budget and you're willing to be flexible, you could throw in something special that doesn't cost you that much (e.g., a photographer can offer a free mini engagement session during a non-busy weekday).
When talking to clients, our team here always encourages them to read vendors' reviews and reminds them that the lowest price isn't always the best choice. If you're interested in what the average and maximum booking amounts are for your service and location on The Bash, give our Account Services Team a call and they would be happy to provide you with those stats.
8. Follow up, follow up, follow up.
As a member of The Bash, you get the client's contact information as soon as you send a 'yes' quote to them - make sure you're using it! We highly recommend following up with the client via phone, email, or text message around 24-48 hours after you send your quote over - it's one of the keys to getting booked on The Bash. It helps you stand out among your competitors, provides a better glimpse into your professionalism and personality, and allows you to answer any questions the client may have about your service or quote.
9. Book through The Bash.
You are required to book your events through The Bash per our user agreement, but it's not only to benefit us, it also helps our members be more successful. Here's why...

Boost your ranking in search results
Booking with The Bash will improve your ranking in search results, getting you more exposure and more leads. Also, it allows clients to leave you a review, providing trust and security, and leading to more bookings for you. We strongly believe that our booking system works in your favor.

You can qualify for the Rising Star Award
Every year, The Bash gives out the Rising Star Award to the entertainers who have earned the most revenue in The Bash bookings. It's a prestigious and highly sought-after award that's only given to one entertainer per primary category. Just another reason to confirm your bookings on The Bash throughout the year.

It benefits the client
Clients love to be able to pay online, especially on The Bash! In fact, over 80% of all events are booked by members enrolled in our online payment system. EventPay is our free, easy, and secure way to receive deposit and balance payments from clients. Plus, by booking through The Bash, clients are always backed by the Our Guarantee.
10. Keep the reviews coming.
According to the 2022 Local Consumer Review Survey by Bright Local, 98% of consumers read online reviews for local businesses. Reviews are important, so make sure to build them up and keep them current. You can customize the order that your reviews are displayed in on your profile, so put your best and most recent reviews right at the top!

How to get more reviews
Make sure that you confirm your bookings with The Bash so clients can leave you a verified review after the event. You can send a single 'review reminder' email to your client for a confirmed booking through the 'Leads' tab in your Control Panel or you can contact our team and we can send the review reminder to the client on your behalf.
If you are a newer member looking to get a jump start on your reviews, consider adding an outside booking to The Bash - you'll receive credit towards your booking dollars which helps you rank higher in search results and also makes you eligible for a client review. Remember, if you receive 4 reviews of 4 stars or higher throughout the year, you'll receive the Best of Award badge on your profile, which clients love to see!

Respond to ALL reviews



We highly recommend responding to your clients reviews, whether positive or negative. It gives you the ability to showcase your personality to future clients and also shows that you're responsive and value your clients. It's even more important to respond to negative reviews - this allows you to explain your side of the story what you're doing to ensure their experience doesn't happen again in the future.
*Bonus Tip* Contact The Bash when you need help and advice.
Our Account Services team is here for you and dedicated to helping you be successful on The Bash. Whether you have questions about setting up your profile, confirming a booking, or even boosting your profile activity, just reach out. We have tons of tips and tricks up our sleeves.
_
We hope you find these 10 tips helpful as you're building your profile, responding to leads, and getting booked. For additional tips on how to get booked for more weddings, birthday parties, and corporate functions, view this resource.
Have additional tips that work for you? Share them below in the comments section!